Totally sweet footage has resurfaced - and for good reason.
While the internet is full of clicky videos featuring animal friendships, it isn't every day you see a video like this one, first posted in 2014. This crow has decided to graciously offer treats to his friends, like any good host.
Probably more considerate than most humans, the thoughtful crow starts by putting a treat in his beak and approaching the cat.
And the cat obliges, delicately accepting the offer.
The dog at first stands just next to the pair sharing a special moment. But then he comes over and sits down beside the cat, politely waiting his turn.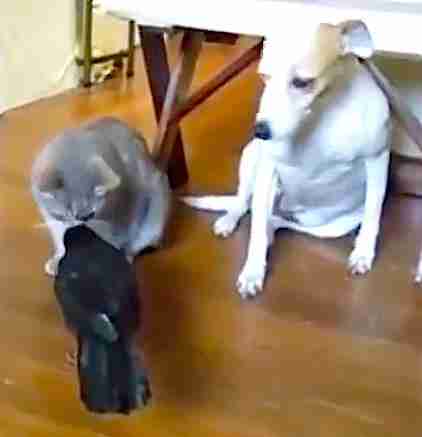 The crow is far from rude. He quickly stands to attention and scurries over to the dog, who lies down to receive the treat, graciously accommodating the crow's shorter height.
The motley crew of incredibly polite friends were caught on camera at the Derecho Animal A Ser (DAAS) animal rescue center in Argentina, which rescues all types of animals from neglect and abuse, including dogs, cats, horses, donkeys and cows. DAAS considers itself the "animal´s transit home," a spokesperson for the rescue told The Dodo.
Imperdible !! Un pájaro alimentando un gato y un perro ??COMPARTELO con tus amigos y familiares que disfrutan de los animales. D.A.A.S - Derecho Animal A Ser