Cat Cruelly Covered In Concrete Makes Miraculous Recovery
When a woman approached her porch and saw something sitting there, her first thought was that the hardened mass was some sort of package. Only when she got closer did she come to the horrific realization that the mass was actually a suffering animal.
Adam Sheridan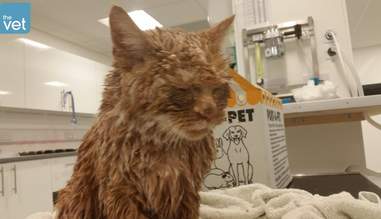 Adam Sheridan
Faye Richards discovered the 2-year-old orange cat outside her home in Bristol, England, last week, covered in concrete. His back and face had already begun to harden, and the poor cat was unable to even open his eyes.
Adam Sheridan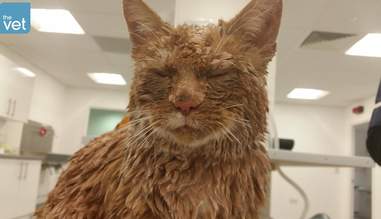 Adam Sheridan
The cat, later named Grant, was immediately taken to The Vet Bristol, where his fur was shaved off in an attempt to remove the concrete from his body.
"When Grant first presented, my initial thought was, 'Oh god, if that's on his lungs he's really in trouble,'" Adam Sheridan, the vet who treated Grant, told The Dodo.
Adam Sheridan
Adam Sheridan
Luckily, Grant had no respiratory damage, and miraculously he's showing no real long lasting effects so far. Somehow, the miracle cat managed to escape with only a few cuts here and there.
Many people have come forward trying to claim Grant, but no one could provide any photos or proof of ownership - everyone simply wants to be a part of the story of this incredible cat. For now, Grant is living with Sheridan, and will likely become a permanent member of the family ... that is, if Grant and Sheridan's other cat, Lady Hissingtons, can learn to get along.
Adam Sheridan
Adam Sheridan
"Currently Grant is walking over the desk and trying to get his head below my hands," Sheridan said. "He's doing really well, and seems to be a very grateful little chap."
It is nothing short of incredible that Grant survived this cruel attack, and hopefully whoever is responsible will be found and held accountable.
Adam Sheridan
Adam Sheridan
"The more people know that there are possible monsters out there that would do this to a cat the better," Sheridan said.
To learn how you can help pass tougher animal protection laws, click here.