Carriage Driver Pleads Guilty To Lesser Charge In Horse Cruelty Case
Slap on the wrist for carriage driver accused of animal cruelty
Saverio Colarusso, a New York City carriage driver who was charged nearly a year ago with animal cruelty in connection with a horse named Blondie, pleaded guilty on Wednesday to disorderly conduct. As part of a plea agreement with the district attorney's office and sanctioned by a judge, Colarusso was allowed to plead to the lesser charge, which carries a five day community service obligation and a small fine. If he had been convicted of the more serious charge, he could have faced a fine of up to $1,000 and a year in jail.
A judge allowed Colarusso on Wednesday to leave the the courtroom through a back door to avoid encounters with animal activists who have attended his every court appearance. A prosecutor, Shilpa Kalra, told the judge the plea deal was offered because Colarusso "does not have a criminal history, the horse had mismatched hind feet which can contribute to the horse's unusual gait beyond that which can be attributed to thrush, [and] the horse was in otherwise very good condition." Despite Kalra's comments in court, Colarusso has a checkered past that includes a charge of drinking while operating a carriage and fines for time-and-place violations, failure to turn on carriage lamps after dark, and failure to keep a daily log, as The New York Times reported after his arrest on the animal cruelty charge.
In the same courtroom where his case had been continued numerous times before and he had declined repeatedly to accept the plea agreement, Colarusso and his lawyer lingered afterward. Sources have said that the District Attorney's office had appeared to be assisting Colarusso-giving him special treatment-by bringing him into an office after his court appearances for temporary refuge, shielding him from activists and news media. After an appearance last summer, Colarusso was sneaked out of the courthouse, a move that is virtually unprecedented, even among celebrities. This happened again on Wednesday, while reporters waited on the ground floor. It is highly unusual and suspect considering that the DA's office was prosecuting him.
The misdemeanor animal cruelty charge against Colarusso came after Blondie was observed by NYPD Officer Brian Coll to be in visible pain and limping from injury to his rear left leg. He had been working with a limp for four days and, despite the injury, Colarusso said he had worked Blondie that day for five hours already, according to the criminal complaint.
Saverio Colarusso (far left) after entering a plea agreement.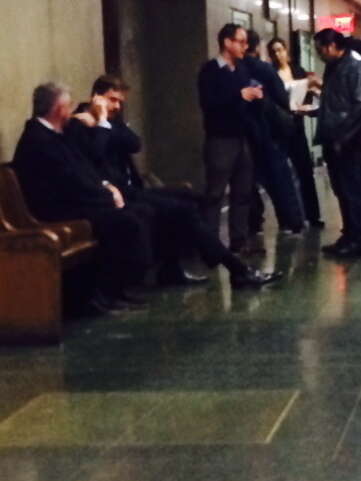 Independent of the court case, Colarusso had been fined $3,000 previously, and the Department of Health rescinded his carriage-driver's license indefinitely. An order of protection was made to prevent him from being near Blondie. During the last year, he has been observed at the hack line, talking with other carriage drivers and promoting carriage rides to tourists.
Saverio Colarusso, whose license was revoked, seen at the hack line on Nov. 15, 2014
After the animal cruelty charged was filed last December against Colarusso, a police veterinarian examined Blondie and found her to have thrush, which, if left unattended can cause serious lameness and put a horse's life at risk. (A subsequent Department of Health veterinary examination of Blondie downplayed the seriousness of the thrush.)
Blondie was stabled at Clinton Park Stables and owned by Edward O'Hara. For a carriage horse to develop thrush would likely mean that the horse had been standing in filthy, urine-soaked straw bedding. In response to specific concerns by the Coalition to Ban Horse-Drawn Carriages about stable maintenance and care of carriage horses, an assistant district attorney had said that all aspects of the case were being investigated rigorously. No charges were filed against either the stable manager or Blondie's owner, both of whom share responsibility for Blondie's care.
Mary V. Culpepper