Baby Donkey Rejected By His Mom Fights For His Life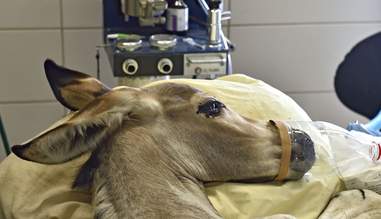 Tibor Jager
Adam was born in a nature preserve in Israel back in August, but his mother immediately rejected him. So staff at the preserve, not yet realizing he had serious medical issues, transferred Adam to the nearby Ramat Gan Safari Park.
"However, when he arrived and was taken out of the crate, he collapsed to the ground, weak and dehydrated," Keren Or, a zoologist for the Safari Park, told The Dodo.
It turned out that Adam had a life-threatening birth defect that hadn't been spotted - his urethra wasn't properly connected, and his body couldn't process fluids correctly. Adam had to have emergency surgery to save his life.
Tibor Jager
Tibor Jager
"The baby spent an entire month at the veterinary hospital," Or told The Dodo, "and only after his condition had stabilized was it decided that he could return to the Safari."
Adam had spent so much time around humans while he was in the hospital that he lost any reservations and kept trying to get close to the caretakers once he was returned to the Safari Park.
Tibor Jager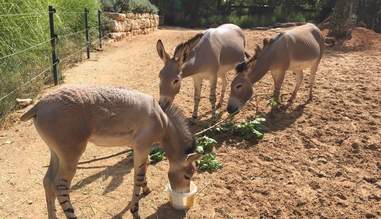 Tibor Jager
To help him integrate with the park's herd of African donkeys, they had to keep their distance from the little donkey. But he quickly adjusted, and his introduction into the herd went relatively smoothly.
"Benchy [the dominant female] chased Adam for quite a while, but eventually after pushing him into one of the corners of the yard and sniffing him, she continued on her way and left him alone," Or told The Dodo.
Tibor Jager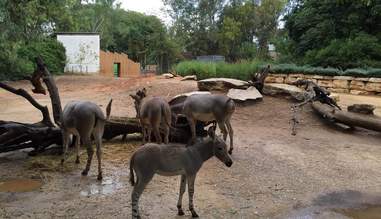 Tibor Jager
African Wild donkeys were domesticated in huge numbers, leaving only a handful still living in wild herds.
Adam will stay at the Ramat Gan Safari Park for a while, but he will eventually be sent elsewhere in order to increase the genetic diversity in the population of captive African donkeys.
For now, he's just a happy member of his herd. But with only 500 in the wild and 160 in breeding programs, his survival is crucial.