Abandoned in a small field in Soacha, south of Bogotá, Colombia, she was left to fend for herself. The Staffordshire bull terrier was starved for food, her skin afflicted with mange, and she was physically weak.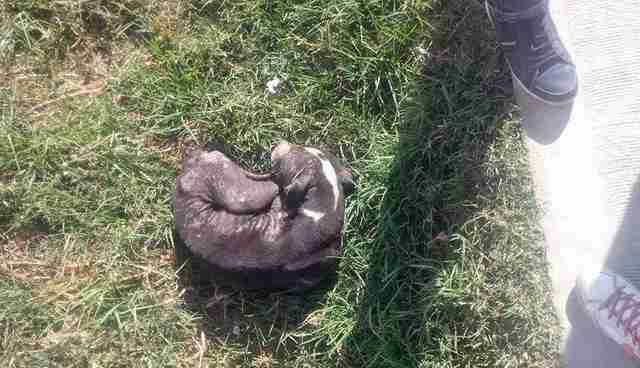 Carol Vasquez, who initially found the dog - now named Cara - made a post on Facebook, asking someone to save her. María Paula Hernández, a student at the University of Los Andes, came to her rescue.
Vasquez told Hernández Cara seemed so weak, she wasn't certain if she would even make it through the night - but, miraculously, she did. The next day, Cara came into Hernández's care after careful transport coordination. Details about how Cara was abandoned in the first place are as yet unknown.
A local vet estimated Cara to be about 2 to 3 years old. Her teeth were worn down and it appeared that she had previously given birth to puppies.
María Paula Hernández
"She was really weak and [didn't] do much for the first few weeks," Hernández told The Dodo. "I believe she hadn't received much affection before." Because she had scars on her body and trouble socializing with other dogs, Hernández believes Cara may have also been a victim of dogfighting. According to Hernández, in the Soacha borough of Bogotá, where Cara was found, reports of illegal dogfighting are common.
Because of her mange (a skin condition caused by mites that results in hair loss and scaly skin), Cara was uncomfortable and frequently itchy, Hernández said.
Everywhere she walked, a trail of dead skin followed her.
María Paula Hernández
Cara's exposed, sensitive skin could not handle much sunlight, so she had to be kept in the kitchen while she healed, to avoid the rest of Hernández's bright, sunny apartment. Whenever Hernández did take Cara outside for short periods of time, people would stare openly at the duo. "Everyone looked like it was wrong, trying to help this dog," she said.
Yet, it was that very same compassion that gave Cara the ability to live her best possible life. The Cara from six months ago is nothing like the Cara whom Hernández still cares for today.
María Paula Hernández

"We live together, only me and her," Hernández said.
María Paula Hernández
"I've had pets when I was little and had helped several street dogs," she said. "However, with her, all was different. I was planning on giving her up for adoption, but during her recovery, she just stole my heart."
María Paula Hernández
Although Cara still has trouble getting along with other dogs due to past trauma, she adores affection from humans. "She is the most loving and playful dog you can meet," Hernández said.
María Paula Hernández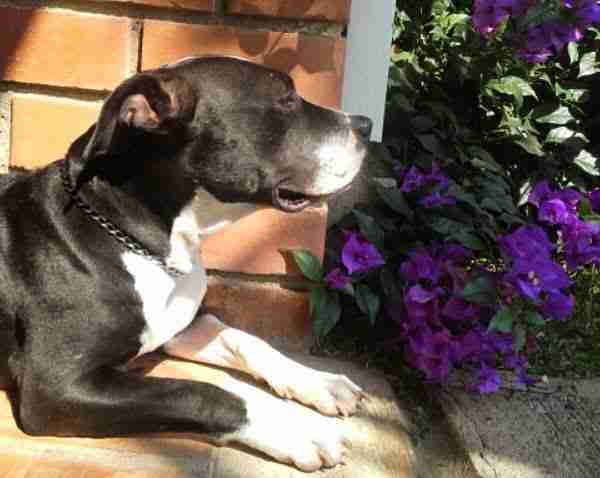 "She just wants attention and gives kisses to everyone and cuddles whenever she can. In the morning, she lays down in the living room and the sun is all over her. She loves that."
María Paula Hernández
Today, Cara is happy, loved and able remain in the sun for as long as she wants.
There are many dogs out there, like Cara, in desperate need of forever homes. Interested in adopting one? Get started at Adopt-a-Pet.com.