But this park isn't all that unusual, according to critics.
Wildlife parks across China are kind of a mess, according to Carole Baskin, CEO of Big Cat Rescue, a sanctuary for exotic cats in Florida.
"The bigger picture, when it comes to tragedies in tiger parks in China, is that high-ranking officials, who control the State Forestry Administration [the government agency that oversees animal and environment issues], see tigers as a luxury product," Baskin told The Dodo.
For example, tiger bone wine is a highly desired product in China, even though a ban is in place, Baskin pointed out. Currently, in China, an estimated 5,000 tigers are being raised in tourist attractions and "farms" in the hopes that the ban will be lifted.
"China says we should farm tigers to take the pressure off wild tiger poaching," Baskin said, "but people will always want the premium product, which is the wild tiger, so stimulating demand is wiping out wild tigers."
And the risks of keeping wild tigers captive have taken their toll across the country. Baskin cited many more examples, beyond the incidents at Bedaling Wildlife World, that suggest that the ethics of the captive big cat industry is tenuous at best.
"Tigers are used for petting, drive-through parks and pay-to-feed parks," Baskin said. "They're also housed in concrete cells to be starved to death for their bones."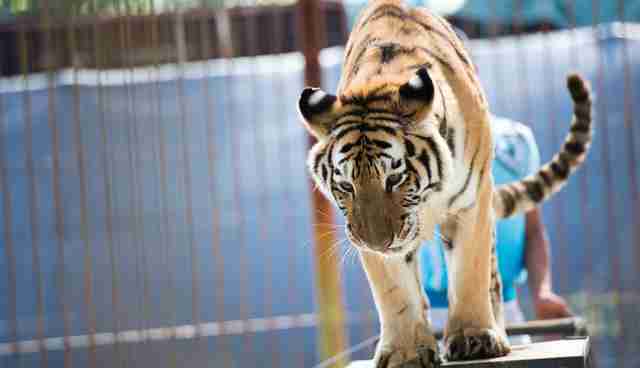 This latest tragedy is also raising questions about the risks people are willing to take to keep animals captive for human entertainment across the world. China might be a mess when it comes to tigers, but the U.S. isn't much better, since it's surprisingly easy to get a tiger in America. While the U.S. doesn't even know exact numbers, it's estimated that there are more captive tigers in this country (most in unaccredited institutions like roadside zoos) than there are wild tigers in the whole world.
"We are so often exposed to a sanitized vision of wild animals, viewing them through glass and bars as they languish in captivity, that it seems we are forgetting that they are unpredictable, powerful and inherently dangerous," Kate Dylewsky, program associate at Born Free USA, told The Dodo. "This bizarre comfort with being near exotic animals has led to one tragedy after another, including the death of a woman who exited a car in the middle of a tiger enclosure in China."