Canada's Largest Turkey Farm Responds To Animal Abuse Allegations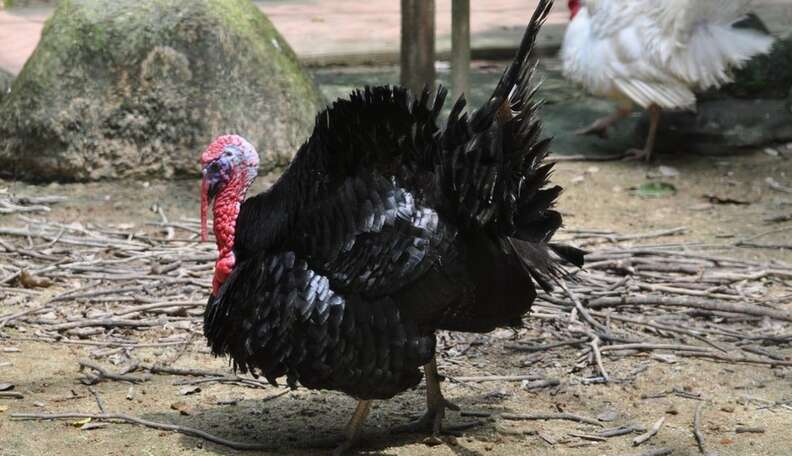 Following the release of undercover footage that reveals disturbing alleged animal abuse at Hybrid Turkeys, Canada's largest turkey-breeding factory farm, the company has announced that it will take new measures to "enhance the ethical and responsible treatment of the turkey flocks in their care."
According to a company press release, Hybrid Turkeys will now enforce video monitoring of all euthanasia for birds on their premises. Additionally, Hybrid Turkeys has also announced that they will begin conducting veterinary review of all turkey euthanasia, which has been met with a positive response from others in the Canadian turkey farming industry. The company has also agreed to cooperate fully with all investigations into the alleged abuse, which was captured by an undercover activist from Mercy for Animals Canada. The video showed four Hybrid Turkeys employees -- who have since been suspended -- kicking and beating injured birds.
"Hybrid has zero tolerance for animal abuse and we have taken clear and immediate steps to address the situation," said David Libertini, the company's managing director. "We have continued to request a copy of all video footage captured on our facilities in order to conduct a thorough investigation."
According to Libertini, Hybrid Turkeys will continue to work with the Campbell Centre for the Study of Animal Welfare to improve conditions for the company's birds.
ACTION GUIDE: Factory Farming/Humane Eating
An increasing number of people are concerned about the industrial production of meat -- the environmental impact, the potential health drawbacks and the needless suffering of millions of animals. If you are interested in trying to find meat that has not been produced in a factory farm, try Sustainable Table's Eat Well Guide. The USDA provides this guide to finding local farmers markets.You can also shop products that have the Animal Welfare Approved sticker, or a number label from the Global Animal Partnership (5 is the hightest and best). The different labels can be confusing, though -- the HSUS created this helpful primer on the major ones. For humanely gathered eggs, we recommend this organic scorecard; for fish, the Monterey Aquarium's Seafood Watch is a great guide. (Of course, the most humane meat is no meat at all -- here are some great tips on vegetarian and vegan eating.)