Heartbroken Goose Refused To Leave The Spot Where Her Mate Died
Juliet stayed there for three MONTHS.
For the past three years, Juliet and her mate wintered with their flock in an Atlanta, Georgia, shopping center parking lot - here, the Canada geese nested and raised their young during the cold months.
But earlier this year, tragedy struck and Juliet's mate was accidentally hit and killed by a car.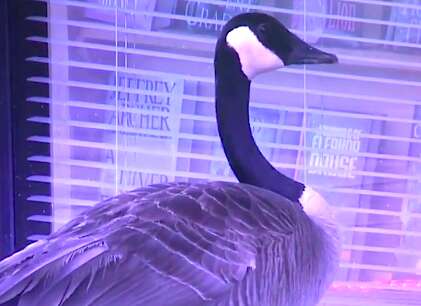 And Juliet's heart wasn't the only broken one - people who worked in the stores around the nesting site watched her as she waited. Juliet would wander up and down the sidewalk. Her vigil for her fallen mate lasted three whole months.
"It's cute and sweet and heartbreaking all the same time," one observer told local news.
The landlord of the shopping center told employees not to feed or give water to Juliet, hoping she would go away on her own. But she still refused.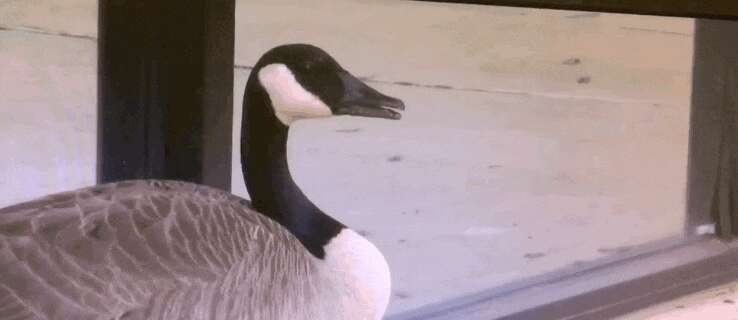 Finally, earlier this month, help came for the heartbroken goose. People from Atlanta Wild Animal Rescue Effort (AWARE) arrived to rescue her.
To the great relief of local residents who had become sympathetic to her, Juliet was brought to the rescue center where she could recover.
"Juliet has only been here a couple of days, so we're still making sure her physical condition is good," Scott Lange, executive director of AWARE, told The Dodo. "Once we're comfortable that it is, we'll begin work on reintroducing her to other geese."
A few more days at the rescue center worked wonders for Juliet. "She's eating well and in good physical shape, so we're going to be moving her outside and introducing her to another goose," Lange said after Juliet settled in.
And just last week, Juliet was introduced to a male goose who had come to the center a month ago, starving and with a broken wing. Like Juliet, the center was a safe haven for him where he could regain his strength.
As Juliet was released into the male goose's enclosure, she saw that he was enjoying a bath in his pool.
She spent a few moments walking along the edge of his pool, before hopping in herself.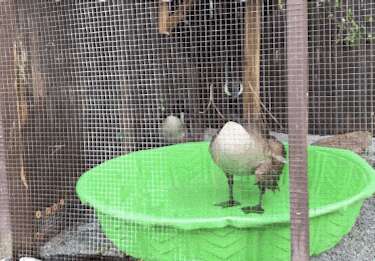 "So far, so good," Lange said. "If they continue to get along, we'll eventually release them together."
Even though nothing can bring Juliet's first love back, hopefully she'll learn to make new friends - and maybe even love again.
To help Juliet and other wild animals who have lost their way get the happy endings they deserve, you can donate to AWARE.