Our favorite photography book so far in 2014 is "Find Momo," Andrew Knapp's collection of suburban scenes and landscapes that have only one constant: his border collie Momo's alert expression hidden somewhere in the frame.
The book started from Knapp's addictive Instragram account, and he enlisted the help of his followers in scouting locations for the book, and for Momo. Beyond the clever Waldo-like camouflaging, what makes the photos so appealing is Momo's ears-cocked-expression of pure ardor as he patiently waits in remarkable circumstances as Knapp -- a self-taught photographer, who took most of these on his iPhone -- gets his shot. I wanted to know more about Knapp, and Momo, so sent Knapp a few questions, which he responded to below:
How long does Momo have to pose for you to get a shot? And has he ever refused?
I've had the occasional time where he was either too distracted or he just wasn't in the mood, but 99 percent of the time he's so ready and he'll sit and wait as long as it takes me to get the shot, which can be anywhere between one and a dozen photos. He's even learned that when I put my phone back in my pocket he's done, and he usually runs over looking pretty proud of himself. He doesn't get too smug, though.
I think I saw an allusion in there to "The Red Couch," a famous photography book that aspired to be a particularly distinct portrait of America. . . with a red couch as a prop. Were you going for something similar here?
I wish I could say yes! Most of my shots are "accidental," as in, I don't often plan the photos, and just find something interesting as I'm exploring. The Red Couch was in a field behind a school I brought Momo to just about every day, and suddenly there was a red couch in it. This was a good moment. The next day the couch was gone and some kid was walking by. I asked him about the couch and he said something like "Yeah, we brought that there the other day but had to move it back to the trash." Shame, I think a couch in a field is a pretty good place to hang out.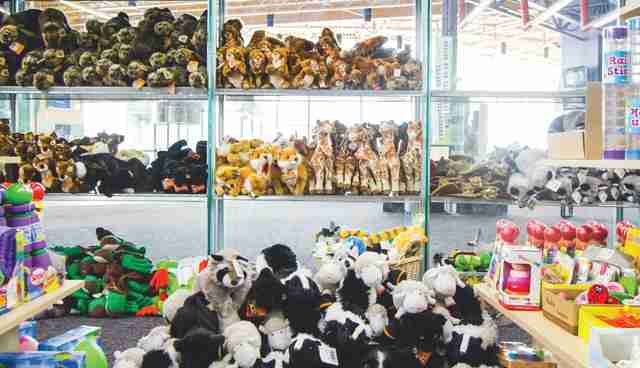 This was a project that fans followed closely on your Instagram feed. How important were your followers in finding places to shoot, or giving suggestions?
My first few followers are the ones who really started to share it and supported the project and I didn't need to ask. On this [current book] tour, I'm inviting followers to find the location of the shoot in each city I stop in, and visit that location to win a free book. I'm hoping the book inspires people to go explore their cities and their surroundings. I've learned that there's really no limit as to what can come from exploring.
How long did the travel for this book -- and your time on the road -- take?
I did a little trip in the Spring / Summer of 2013, about a month of travel time, mostly around Ontario and New England. I don't think going that far is really that necessary, but definitely much more adventure can come from a good distance. My friend Zach and I took Momo in the yellow van (Mellow the van!) and we ended up meeting a bunch of great folks, seeing some great sights, and most of it was accidental.