Can responsible hunting become the norm in the Mediterranean?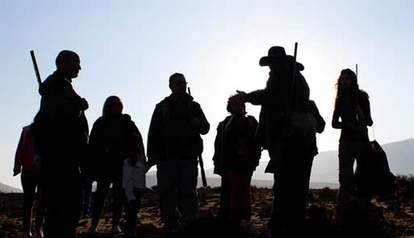 In the Middle East, uncontrolled hunting poses a threat to numerous species, particularly to migratory birds in Albania and Lebanon. In fact, estimates show that Lebanon alone has approximately 500,000 hunters. But with support from the Critical Ecosystem Partnership Fund through our investment in the Mediterranean Basin biodiversity hotspot, civil society is taking action to improve awareness about responsible hunting.
The Albanian Society for the Protection of Birds & Mammals (ASPBM) is enforcing hunting legislation and strengthening institutional capacities for wildlife in Albania. This includes monitoring the effectiveness and impact of the Albanian government's hunting ban policy in 2014 and 2015; raising awareness among local stakeholders; building the capacities of authorities for implementation of the policy in the most important key biodiversity areas of the northern Albanian coastline; and coordinating with major civil society organizations, including a hunters' association, to inform the decisions of the government on future hunting regulations.
Earlier this year ASPBM spotted several hunting shelters in two of Albania's Important Bird Areas, and proceeded to destroy these. Check out video footage here:
In Lebanon, the Lebanese Environment Forum is promoting sustainable hunting practices using a community-based approach. This involves development of a multi-media campaign in Lebanon to raise awareness about key biodiversity areas, birds and biodiversity; increasing understanding of Lebanon's new hunting law and promoting sustainable hunting practices in the country; disseminating awareness materials throughout the administrative districts and undertaking pilot trainings through hunting clubs, educators, law enforcement officers and the local community. In addition, LEF initiated a pilot model Public Hunting Area, and prepared management and business plans, as well as site and species monitoring plans for the site, later named a Responsible Hunting Area.
Learn more about this work here.
Established in 2000, the Critical Ecosystem Partnership Fund (CEPF) is a global leader in enabling civil society to participate in and influence the conservation of some of the world's most critical ecosystems. CEPF is a joint initiative of l'Agence Française de Développement (AFD), Conservation International, the Global Environment Facility (GEF), the Government of Japan, the John D. and Catherine T. MacArthur Foundation, and the World Bank.