In shelters worldwide, there's often a stigma associated with black dogs, but not for these three internet-famous heroes.
Bandit is a multi-talented therapy dog to veterans, children and his own father with help from his online presence. Orlando is a seeing eye dog who saved his owner from a subway train and then was saved himself by an online crowdfunding campaign. And Lady walked 30 miles with a bad leg to find her owner only to be turned away, and then in a true fairy tale twist was rescued by a dog-loving heiress who found her through New Media. Bandit, a rescue himself, works tirelessly as a certified therapy dog to serve others while his website and social media pages keep track of his schedule and appearances. He's an active member of "Battle Buddies" where he offers friendship and reassurance to patients at the nearby veteran's hospital. He also helps Jack, his human dad, with his PTSD dating back to his service in Vietnam and Carol, his human mom, manage her diabetes. But that's not all for Bandit, he also spends time with children in the "Sit, Stay and Read" program. There he sits encouragingly as children read to him. If that wasn't enough, he's published a book with Carol entitled "Bandit, the Big Black Lab Who Stole My Heart." With his online presence growing, he's becoming more and more popular around the world. "He's becoming quite famous," Carol tells the San Bernardino Sun in a recent interview. And rest assured, if there's anything else Bandit can do to make the world better, he's probably already started it.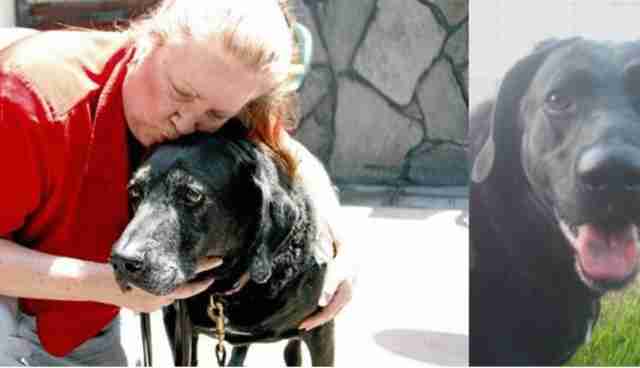 Bandit with owner, Carol (photo credit SB Sun, left, and Carol Bradshaw, right)
When Cecil Williams, a blind man, fainted in front of an oncoming NYC subway, his guide dog, Orlando, literally leaped into action. Orlando jumped off the platform to where Cecil had fallen to attempt to carry him to safety. Unable to lift him, he stayed on top of Cecil as the subway zoomed overhead. Incredibly, neither Cecil nor Orlando suffered any serious injuries. As news spread of Orlando's heroism, word also spread that Cecil was going to lose him. Orlando was nearing retirement age and Cecil's insurance would no longer cover him despite their eight years of friendship. The story was shared on Facebook and Twitter, where online good Samaritans immediately organized crowdfunding campaigns and quickly raised over $80,000! Cecil can now absolutely afford to care for him. Even heroes like Orlando can use a helping hand from New Media.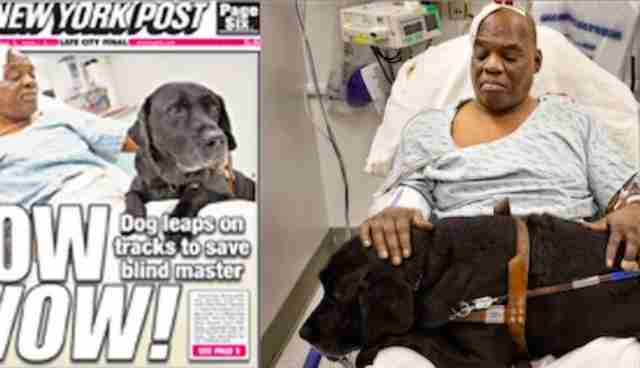 Orlando with owner, Cecil (photo credit NY Post, left, and John Minchillo/AP Photo, right)
Ma Kettle had been put up for adoption in 2012 after her elderly owner passed. She was adopted again and loved her new owners unconditionally. However, when the new owners adopted puppies, they became concerned that Ma Kettle might not know how to play gently. Unfortunately for the Lab who did not understand, her new owners drove her 30 miles to live with a stranger she had never met before. Thinking only of getting back to what she believed was her forever home, Ma Kettle escaped and made the long trek with a bad leg, somehow locating her owners. Soon the faithful dog found herself at the pound again with little to no hope of getting adopted another time due to her age and health. Volunteers shared her emotional story on New Media along with their dismay that the future looked grim. The story touched a nerve and quickly went viral all over Facebook and Twitter. Over a thousand miles away, her new soon-to-be owner was moved and sprang into action. The Wrigley heiress, Helen Rich, learned of Ma Kettle's story from her sprawling animal sanctuary in Odessa, Florida where she provides for over 70 animals. She immediately sent her two associates via private jet to swoop in and rescue Ma Kettle. Renaming her Lady, Rich flew her to her new and true forever home where she will live not just on the estate but with Rich as her personal companion. "She's going to think she's gone to heaven," remarked Rich's assistant who accompanied Lady on the private jet to Florida. Little did Lady know that New Media had just connected her with the best friend she deserves.
Lady and new owner, Helen Rich (photo credit Chet Ragsdale, left, and On the Wings of Angels, right)
Indeed black dogs can rule, and New Media is there to help ...No question about it.