Woman Arrested For Sharing This Dog's Horrifying Story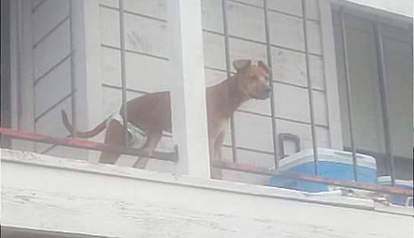 A Texas woman was arrested after posting images of a dog in deplorable conditions to social media.
Amber Cammack was charged with two misdemeanors and ended up spending 16 hours in a Texas prison, without visitation rights.
Her real crime, she said, was bringing a brutalized dog's plight to the world's attention.
"I wore those handcuffs with pride," Cammack told The Dodo.
Earlier this week, Cammack posted images of what appeared to be a neighbor's dog to social media, including one where he is seen with a diaper duct-taped to her hindquarters, and another with her muzzle tied shut with a phone cord.
Warning: The following images are disturbing.
"My kids were crying," she said. "We had to walk past this every day. That dog was suffering, whimpering and crying."
Cammack's pleas to relieve the dog's suffering were met with jeers from the neighbor, who, as it turns out, was taking care of the dog for a friend.
"The owner said, his exact words were, he tied his mouth shut so [the dog] would stop crying and people would stop complaining," she said.
In addition, the dog showed signs that she had been wounded, with an open gash on his back.
"I called animal control every day and the humane society and the SPCA," Cammack said. "And no one returned my phone calls. That's when I went public with it."
The images set off a firestorm on social media, as people from around the world bombarded the Harris County Sheriff's Office demanding the owner's arrest. But also, because the images contained information that identified the so-called dog sitter's home, there were some safety concerns.
Amber Cammack
Amber Cammack
And that's when Cammack said sheriff's deputies came knocking on her door.
"The district attorney's office filed charges for repeated online harassment," Ryan Sullivan of the Harris County Sheriff's Office told The Dodo. "The call was actually made by an individual who was receiving threatening remarks and being harassed in his home as a result of a number of social media posts."
Cammack was charged with two Class B misdemeanors and taken to Harris County jail.
Amber Cammack
Amber Cammack
"They shut down visitation at the jail because they said I was planning a march," she added.
And what's more, officers told the rest of the inmates that Cammack was the reason why their visitation rights had been cancelled.
"I was treated like a hardcore murderer, felon," she said.
Behind it all, Cammack said, was pressure over the images she posted.
"They requested that I take the videos down."
But she would not. And, after 16 hours, Cammack was released - and the district attorney's office declined the charges.
The dog has since been returned to the owner.
"Reports of animal abuse must be responded to immediately," Kim Ogg, a crime victims' advocate, said at a press conference on Thursday. "Delayed response kills animals. No response insures that even more abuse will occur. Putting a complaint form on your website and then failing to follow up on the complaints is worse than doing nothing."