For a chimp named Paula, a little orange ball meant freedom.
That's because, when she was rescued by a group of teachers earlier this year, one of her rescuers gave her a basketball as a toy.
Paula had been zipped up in a backpack and carted around by her captors, who were trying to sell her as a pet. No one knows for sure how she got there, but rescuers suspect that her family was either killed and Paula was orphaned or she was kidnapped from them.
But the day she got her basketball, Paula's whole fate changed.
The ball was meant to just keep Paula occupied while her rescuers figured out where to take her. For a few weeks, she lived on their porch.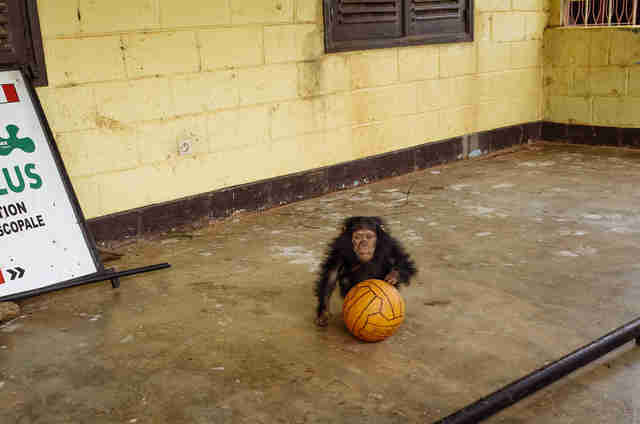 "Although they spent time with her, there were periods where she was alone so they gave her some branches and the ball to prevent her from being bored," Elissa O'Sullivan, spokesperson for Ape Action Africa, told The Dodo. "The trauma that she went through in losing her family then being kept by villagers to sell meant that the ball became much more to her than a toy. It was her constant in a time of terrible confusion."
In May, Paula was brought to Ape Action Africa's Mefou Sanctuary in Cameroon.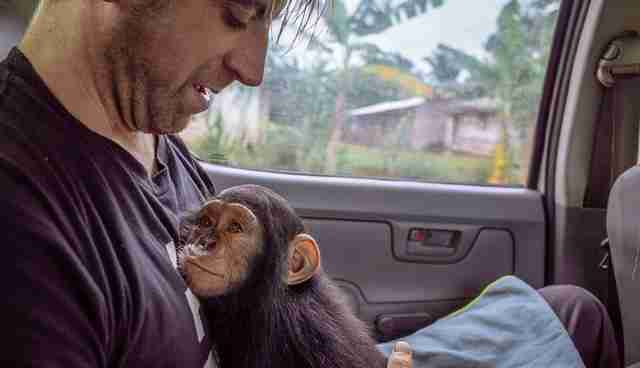 "When she arrived at Mefou Sanctuary, Paula's best friend was a basketball - a toy she had brought with her that represented security. It never left her side," the organization wrote.
Ian Bickerstaff/Ape Action Africa
Paula kept her ball close for about a week, "the time it took for her to relax, understand that she was safe and bond with her caregiver," O'Sullivan said.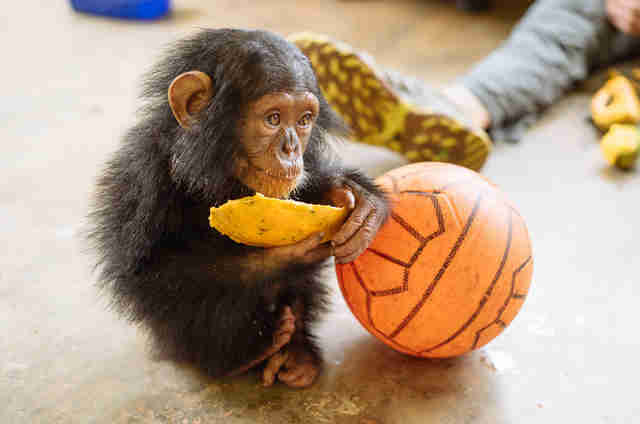 Soon, Paula started to explore her new home and meet new friends.
And whether or not she realized it, Paula was leaving the orange ball behind.
She was finally safe. And she didn't need to be reminded of her freedom anymore, because she finally felt free.
"[The ball has been] replaced by three chimp friends who have given her a new sense of family," O'Sullivan said. "It's a mark of how far she's come that ball is completely forgotten now."
To learn how you can help the rescued apes at Ape Action Africa, click here.