Camera Trap Snaps Evidence of 'Bizarre' Friendship Between A Rhino And Genet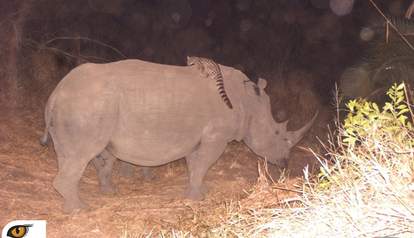 <p><a class="checked-link" href="http://wildlifeact.com/blog/camera-trap-selfies-hitch-hiking-genet/">Wildlife ACT</a></p>
Camera traps installed along Hluhluwe-iMfolozi Park in South Africa have captured photographic evidence of the most unlikely interspecies friendships. Conservationists from Wildlife ACT were reviewing photos taken from inside the park when they spotted a scene that had them "stumped."
Images taken one night revealed two white rhinos entering into view, one of whom appears to be carrying a small animal on his back. Judging his ringed-tail, the team were able to identify the furry rider as a large-spotted genet - a nocturnal mammal found only in South Africa.
From that photo alone, it might have seemed like a one-off sort of pairing; maybe the genet had momentarily mistaken the rhino for a rock? But that soon proved not to be the case.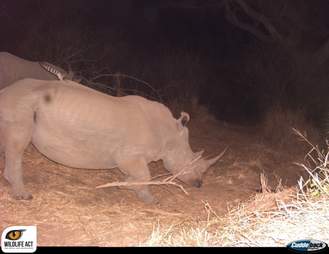 (Wildlife ACT)
Amazingly, just three nights later, camera traps captured the animals together, this time with the genet more clearly in view.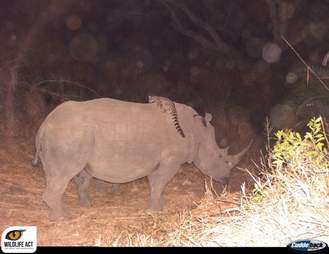 (Wildlife ACT)
Sure enough, the evening after that the genet and his trusty rhino steed were seen once again moseying through the African forest together like inseparable old friends.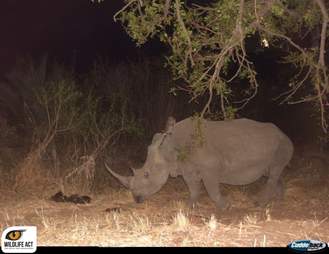 (Wildlife ACT)
The rhino and genet were spotted taking a nighttime ride on a fourth evening as well.
On the one hand, the interspecies duo is quite charming, but as Wildlife ACT notes, it's also "absolutely bizarre."
(Wildlife ACT)
While it's true that some large herbivores, including rhinos, will allow birds on board to clean them of small pests and parasites, a symbiotic relationship between two animals known as mutualism, that doesn't seem to fit in this case.
"This behaviour has stumped most of us at Wildlife ACT as we can't see any benefit for these species to be seen together – with the possible exception of a height advantage for the genet," writes the group.
Genets are typically considered a solitary animal, and rhinos are not the most tolerant of outsiders, but the group says "it seems like this lonely genet has tried to make friends outside of his species."