Rescued Baby Cow Feels Grass For The First Time, Can't Stop Bouncing
This mother cow and her newborn calf nearly lost everything. Instead, they have a future.
Ruby and her son, Lucas, were rescued last month from Pennsylvania's New Holland livestock auction. Ruby gave birth to Lucas while standing in a kill pen, the ill-named area where animals destined for slaughter are placed. At that moment a horse rescuer walked by and made eye contact with the brand new mother - and knew she couldn't leave them.
"The cow turned and looked at her, and literally had tears running out of her eyes," Poplar Spring Animal Sanctuary wrote on Facebook. "Kelly [Smith of Omega Horse Rescue] decided then and there that even though she did not rescue cows, she would save this mother and baby."
Poplar Spring Animal Sanctuary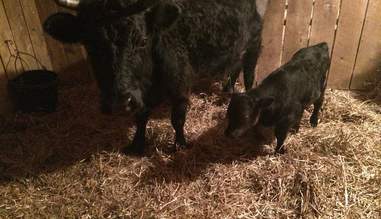 Poplar Spring Animal Sanctuary
Smith successfully bid on the pair and rushed them to a veterinarian, where they required three weeks of treatment. "Both animals were very sick after being kept in freezing cold pens at the auction with no food, water or bedding, and the little calf almost did not survive," Poplar Spring wrote.
Fortunately, they pulled through, and on Monday they arrived at their new home at Poplar Spring's Maryland sanctuary. Soon after their arrival, they were able to venture out into Poplar Spring's fields for the first time. For Lucas, this was the first time in his short, turbulent live that he'd ever seen grass - and the result was magical.
While Ruby played the role of cautious mother, Lucas was "sooooo excited," one staffer wrote, as he raced and frolicked around his mom.
Because Lucas is so tiny, he and his mother are staying in an enclosed sheep pasture before they can join the rest of the herd. But they've already met some of their new family, Poplar Spring wrote - thanks to what seems to be a bit of bovine intuition.
"Yesterday after our newest cow Ruby and her calf Lucas arrived, all the other rescued cows somehow knew it, even though they couldn't see them," the sanctuary wrote. "Yesterday afternoon the entire cow herd walked all the way through the woods and crossed two creeks just to meet them!"
Carolyn Hamilton/Poplar Spring Animal Sanctuary
Carolyn Hamilton/Poplar Spring Animal Sanctuary
Three short weeks ago Ruby and an hours-old Lucas were facing death. Today, they're looking at a long and happy life together.
Carolyn Hamilton/Poplar Spring Animal Sanctuary
Carolyn Hamilton/Poplar Spring Animal Sanctuary
"It is heartwarming to see how happy they are to be alive," Poplar Spring wrote. "And now they will be safe and together for the rest of their lives."
If you'd like to help provide a future for Ruby, Lucas and the many other animals Poplar Spring cares for, you can make a donation below.