Tiniest Cow Rescued From Auction Is So Loved Now
"Blitzen was so small that he could fit in a bowl. I had never seen a calf this size."
Blitzen was just 37 pounds when the perfect person showed up at a cattle auction and decided to rescue him.
The baby cow was weak and just days old. And the people who were at the stockyard, auctioning off him and other unwanted animals, were laughing at him because he was so tiny.
"They called him trash and joked about ... no one bidding on him," Susie Coston, national shelter director for Farm Sanctuary, wrote. She was already rescuing two other very sick calves that day, who had come in with scores of others from massive dairy farms in Pennsylvania and New York. The calves who show up at the stockyard are often just a day or two old.
"Calves often arrive at the stockyard too weak to stand, dehydrated and without having received vital colostrum from their mothers," Coston explained. "This leaves them vulnerable to infection and disease, which quickly sets in." It seemed like the scrawny calf hardly stood a chance.
But the auctioneer looked at Coston and said, "Do you want him too?"
"Of course, I said yes," Coston recalled.
At the hospital, Blitzen watched over the other calves as veterinarians tried to save them.
This was back in December 2010. And all three dying calves survived.
Blitzen was the healthiest of the three, but he still had pneumonia and needed a blood transfusion.
But soon the three calves were running and playing together.
They were brought to Farm Sanctuary in upstate New York, where they could grow up together.
Blitzen especially bonded with Lawrence. The two animals, who now weigh a couple thousand pounds , continue to be best friends.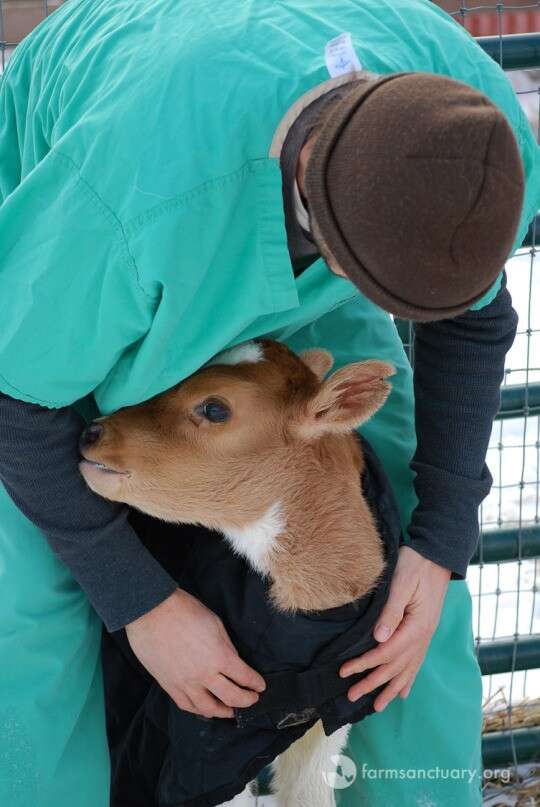 And now Farm Sanctuary still loves to celebrate Blitzen's birthday, just a few days before Christmas, which was very nearly the day he and his friends died.
But that stockyard is a distant memory now.