Let's Save Caitlyn, A Dog Whose Mouth Was Taped Shut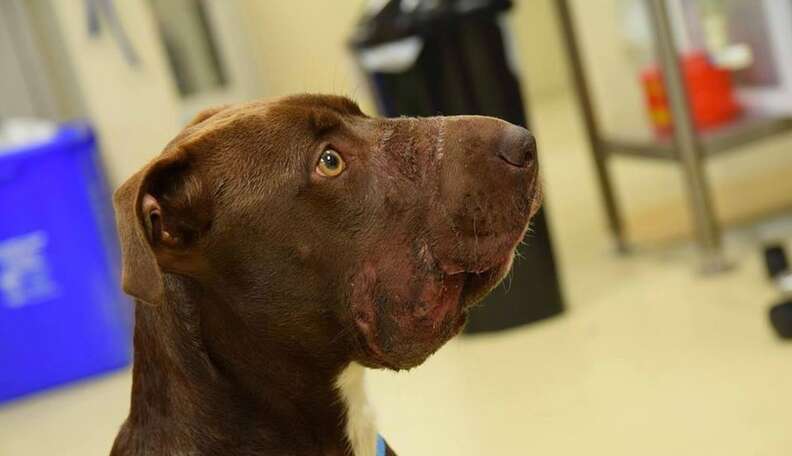 When an abused dog was found with its muzzle bound with electrical tape, and its tongue hanging out with blisters, a worldwide social media storm started, catching the attention of many celebrity animal lovers.
Among the dog loving stars that wanted to step up to aid, were the cast members of Bravo's hit reality show, "Southern Charm," who are throwing a benefit honoring the abused dog they named Caitlyn, to help the countless other abused or homeless animals at the Charleston Animal Society. The party is set for June 9 and hosted by Shep Rose, Cameran Eubanks, and K. Cooper and promoted by the other cast members, such as Patricia Altschul - who suggests also donating to the Charleston Animal Society's "Toby's Fund" - and Kathryn Dennis who tweeted about it. The fundraiser for the Charleston Animal Society will be held at the Republic Garden and Lounge on King Street in downtown Charleston. The cover charge of $10 will be going to Charleston's Animal Society "Toby's Fund," to continue the medical care to neglected, abused or homeless animals like Caityn. Until June 20, large dog adoption fees will be waived in honor of #IamCaitlyn that is trending on twitter.
The cast members are no strangers to promoting shelter pets. In one episode of "Southern Charm," Shep Rose and Cameran Eubanks went to the animal shelter, promoting to adopt a three-legged mutt, saying that it's the less perfect dogs that are more likely to be euthanized unlike purebreds. Shep Rose even did a PSA for an animal shelter to promote adopting shelter dogs.
The Charleston Animal Society was overwhelmed with gratitude for the attention to help Caitlyn. In Joe Elmore's, (CEO of Charleston Animal Society) own words:
Caitlyn is a classic story of survival. Worse than being beaten down, she was betrayed by a human when he tortured her by bounding her snout shut to die a slow and painful death. However, another human realized that this was wrong and made a simple phone call for someone to help her. A community, then a nation, ultimately a world responded. The good of so many far out shadowed the evil a single human and Cailyn beat the overwhelming odds that were against her.

Charleston Animal Society has been rescuing countless other victims of cruelty like Caitlyn for 141 years. When the Animal Society built the first No Kill Community in the Deep South, overcoming what many experts in the field thought was improbable in our lifetime, it sent a message across the South and, indeed a nation, that saving animals is possible with focus, strategy and dogged determination. The work of the Animal Society will continue and the cause will endure until every homeless animal finds a home and cruelty to both humans and animals is not tolerated in our community, our state and our nation.