No one checked for wildlife before cutting down the tree. The clearing company just got straight to work, sawing the trunk of the 200-year-old oak tree to make room for a new building that would go in its place.
As the tree crashed down, a female raccoon fell to the ground and was crushed by the weight of the wood. Her new litter of 2-day-old babies also tumbled from the tree, including a tiny raccoon who would later be named "Breezy" after the man who saved her life.
A construction worker noticed Breezy lying on the grass and picked her up. Breezy was so young, her umbilical cord was still attached, and her eyes hadn't opened. But instead of taking the little raccoon to a veterinarian or wildlife center, the construction worker took Breezy to a bar to show his friends, thinking the little creature would be fun to play with as they drank beer.
Breezy probably wouldn't have survived the night at the noisy bar without her mother to give her milk or keep her warm. Luckily, a local cab driver named Ron - the owner of Breezy Cab Company - saw the construction worker at the bar with the baby raccoon, and talked him into giving Breezy to him. As soon as he had Breezy in his care, Ron took her to Savannah Wildlife Rescue in Georgia, a sanctuary and clinic run by Jeanne Paddison that specializes in raccoon rescue.
When Paddison saw Breezy, she didn't think the poor thing would survive. "Babies that come to us with umbilical cords still attached have very weak immune systems because they haven't had enough exposure to the mother's antibodies," Paddison tells The Dodo. Weakened immune systems make the babies susceptible to sepsis, a bacterial infection that can kill a baby raccoon within hours.
Despite Breezy's slim chance of survival, Paddison, the onsite veterinarian, and team of volunteers at Savannah Wildlife Center worked hard to save the baby raccoon's life, giving her subcutaneous fluids for hydration and a series of intensive medical vitamins and antibiotics. The also kept Breezy warm, feeding her a special formula of milk with a syringe and training nipple.
Paddison also went back to the site of the felled tree, hoping to find Breezy's brothers and sisters. As Paddison explains, raccoons never have just one baby, but usually have between four and six kits. "My guess is that the other babies were thrown from the tree as well, but never spotted," Paddison explains.
She searched hard - even climbing over the fallen trunk to look in a hollow part of the tree - but she couldn't find them anywhere. "It was too late," says Paddison. "The construction workers had already bulldozed and burned through the debris where the babies may have fallen."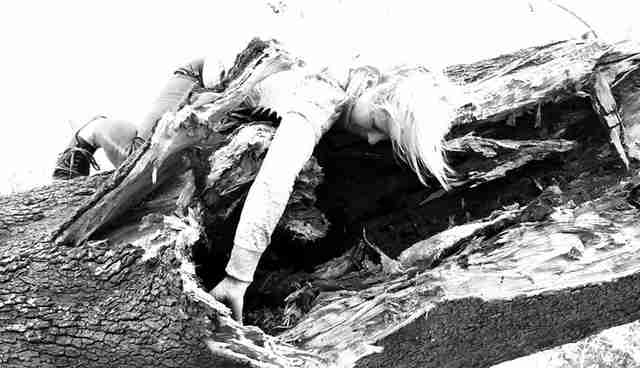 Her siblings might not have survived, but Breezy seems to have beaten the odds. She recently passed the 3-week mark, which increases her chances of long-term survival. "Breezy has fought so hard," Paddison says. "She surprises us every day and is doing so well."
Breezy even opened her eyes this past week, which is another good sign.
First one eye opened ...
... then, two days later, the other eye.
When Breezy is about 5 months old, her instincts will kick in, and she'll eventually be released back into the wild. But for now, this adorable baby raccoon will enjoy the best possible care at the Savannah Wildlife Rescue, which Paddison has run for three years with a team of compassionate volunteers. (Savannah Wildlife Rescue may be a new organization, but Paddison has over 35 years of experience rescuing raccoons and other wildlife.)
Paddison hopes people will learn to be more mindful of wildlife, especially when cutting down trees. "Our urbanization has made it to where every tree cavity is going to have babies in it," Paddison explains. "There are so few trees left. Everyone cuts down their dead trees with no regard for nature, and there just isn't enough room for the wildlife."
"The local cab driver rescued the baby from an ignorant person showing her off around a bar with loud music," she says. "I am very thankful for the kindhearted individuals who have compassion for wildlife."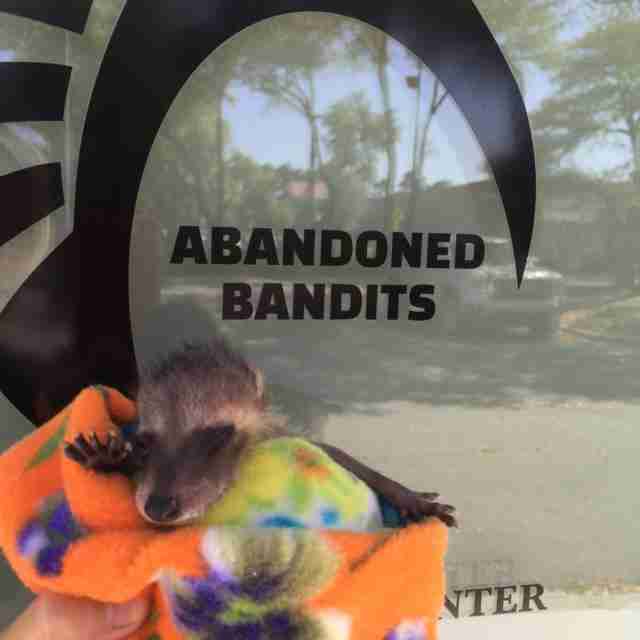 To help raccoons like Breezy, you can donate to Savannah Wildlife Rescue. The sanctuary is especially in need of donations around raccoon baby season (between March and October each year) when it has to buy expensive formula to feed the orphaned wildlife.