Goodbye To 'Parks And Rec' And TV's Only 3-Legged Pit Bull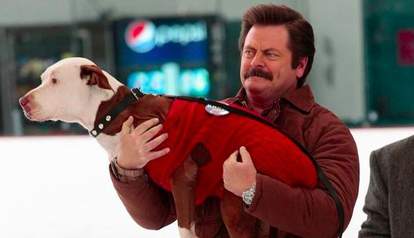 <p><a href="https://www.facebook.com/parksandrecreation/photos/a.187164667597.161535.63235852597/10151993542742598/?type=3&src=https%3A%2F%2Fscontent-ord.xx.fbcdn.net%2Fhphotos-ash2%2Ft31.0-8%2F1015071_10151993542742598_1379610533_o.jpg&smallsrc=https%3A%2F%2Fscontent-ord.xx.fbcdn.net%2Fhphotos-ash2%2Fv%2Ft1.0-9%2F1013690_10151993542742598_1379610533_n.jpg%3Foh%3D19e483979bc6915cdd44fe4b19799795%26oe%3D558858E7&size=2048%2C1709&fbid=10151993542742598" target="_blank">Facebook/Parksandrecreation</a></p>
Champion wears costumes and he's great at everything (except digging).
But Champion actually isn't a "he" at all; Champion is played by Lucy, who was adopted from a pit bull rescue in Los Angeles in 2004. She's actually a very prolific actress; she's been in commercials and was also an extra in "Hotel for Dogs."
We'll miss seeing Lucy as Champion every week. Champion may not have been the most vocal resident of Pawnee, but he was a real scene-stealer.
Good-bye, "Parks and Rec," and goodbye, Champion. We'll miss you in the saddest fashion.