On Remembering Our Animals: 'Agatha'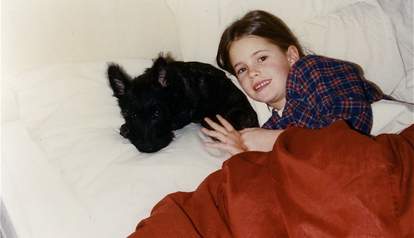 They were ones we found, the ones who found us, the ones we lost, the ones we can't leave behind. The big and tall and gentle ones. The teeny, hoppy, funny ones. The ones whose eyes revealed old souls. The ones who ran until their tongues flopped out like flags. The ones who lived long and the ones who left too soon. All who before they went helped us believe in things greater than ourselves.
I created Bye Beast, a website that remembers the animals we've loved and lost, for my own aging pup after a friend had to put her twelve-year-old dog to sleep. Her sadness reminded me what a deep, private sorrow it is to lose an animal – a sorrow that isn't always understood by those who have never experienced it. Even among my own friends, there are those I talk to about my animals and those I don't. Which is why it occurred to me to create a public space for people to honor their beloved animals – with a photograph, a poem, a memory, a good old proper obituary – and to share with all the others who've lost animals, too. I wanted to make a place where, in each other's company, we could say goodbye.
Since I started this project, it seemed only fair that Agatha and I go first. That's us up there. She was a puppy. So was I. I was sick.
She may have been a little dog, but from when I was five through seventeen, Agatha was a great big part of my world. I'm an only child; she was my other – meaning she wasn't really a sibling, she wasn't really a friend, she wasn't really my own little baby, she was all three. Her favorite snack: cat poop. Her second favorite snack: kid fingers (including my cousin Caitlin's). She slept on my bed and, the neighbors would tell us, she howled when we were gone. She was feisty and funny and loyal. She once ate an entire bag of pancake mix from under the Christmas tree. She didn't move for three days, but was, miraculously, fine.
Most memorably to my parents and me, she proved a fine substitute for a horse – a tall order (literally) for a Scottish Terrier. Growing up in New York City, my little-girl dreams of waking up to a horse grazing in my pasture were dashed young and hard. So I trained Agatha to be my horse. She would run from one end of our house to the other and jump over my outstretched legs the way Laura's horse Bunny cleared logs on Little House on the Prairie. I will never forget what she looked like airborne.
We knew when we woke up that she was dying. It was August 5th. I was seventeen. She was twelve. She was dazed and bloated and slow. We would learn later that a tumor had burst in her abdomen and her little body was filling with blood. It's hard for me to admit this, but my mom drove her to the vet that day, alone. I went to work instead, answering phones at my dad's office, my summer job. I couldn't handle the alternative.
Before I left, I gave Agatha, who was lying outside on our deck, a long kiss right in that brindled soft spot between her eyes. We stayed there forever and I never saw her again. She was put to sleep a few hours later. My mom called to tell me. I left work early, lay on the couch for days, and watched soap operas for the first time in my life. I cried for years for that dog. Two decades later, I still have her tags in my jewelry box; I can still feel her brindle on my lips.
"Agatha" was originally published at Bye Beast on July 12th, 2012. You can visit the site here. I welcome your submissions of 1,000 words or less with up to three photos at: byebeast@gmail.com.