The New York Times opposes a carriage ban -- and it's dead wrong on this issue.
So are the New York Post, the Daily News, Newsday/AM New York and other news organizations that have opposed Mayor de Blasio's plan to shut New York City's horse-drawn carriage trade. Political retribution is driving their campaigns. Advocates for a ban simply want to do right by the horses.
Let's take a closer look. Despite strong and consistent public support for a ban on what one expert has called the worst carriage operation in the United States by far, the Times tells us that the carriage horses are loved and the trade highly regulated, that carriage horses have a place in New York City and should be "safe and protected."
Talk about a contradiction in terms. For the Times to say the carriage horses belong on the streets of New York City and that their safety and well-being should be the mayor's priority is misguided at best. It's nonsense, and it's dangerous.
In a three-day period in mid-April, the Coalition to Ban Horse-Drawn Carriages posted on its Facebook page news stories about three serious horse-drawn carriage accidents -- in California, Belgium, and Savannah, GA-- in which horses spooked and ran wild and humans were injured. Some people barely escaped with their lives.
The Coalition has been advocating since January 2006 for an unconditional ban on New York City's horse-drawn carriage operations. It is the first organization to call for a pure a ban and its mission has not wavered since then.
Politics, Ignorance, and Deception At the Times
Bad enough that few, if any, beat reporters or Editorial Board members at the Times are qualified to have an informed opinion about what's best for carriage horses, much less what is the right thing to do. A couple days after the April 14 editorial ("Keep the Carriage Horses") was published, we learned from Politico of a conflict of interest that the Times failed to disclose: the editorialist's brother is a competitive carriage driver. Family and other ties get in the way of the news.
The media attack on popular support for a ban on horse-drawn carriages in New York City is all part of a bigger picture that keeps the public from getting the truth. The carriage horse issue has become a proxy to "vote down" New York City's first-ever liberal progressive mayor. What's more, the sinister anti-animal Cavalry Group is influencing the news, having joined forces with the carriage trade. This, coupled with news media's abandonment of any last scraps of journalistic integrity and sound judgment, is keeping the truth from getting out. The worst of late is the Daily News, which offends daily with its anti-ban campaign, including this most disrespectful turn.
There are some media bright spots: Brooklyn Magazine asks if we should be protecting a tiny number of jobs at the expense of the horses' misery; WNYC has reported on an already available and viable alternative industry to keep the carriage drivers working after the horse-drawn carriage ban, Gothamist sorted out some of the bias -- including the fallacy of the "electric cars" and the dangers of a believing in a three-year phase-out of carriages, NY1 reported on the mayor's steadfast commitment for a ban and Dodo.com invited this commentary (thank you!)
Carriages In the City: Dangerous and Inhumane
New York City is no place for carriage horses, as the long string of accidents has shown and as independent experts agree. Cities are simply not humane environments for carriage horses, according to Holly Cheever, DVM, a carriage horse advocate who has served as primary veterinary advisor to two states and 15 municipalities that have sought to ban carriage rides or devise legislation to protect carriage horses.
It's that simple. The traffic-congested, noisy, and frenetic streets of New York City make it inherently dangerous and inhumane to have horse-drawn carriages operating here. It is reckless and unsafe. It is also just plain wrong.
Horses are nervous prey animals with a highly developed fight-or-flight impulse and super-sensitive hearing. The list of things that frighten them is a long one, according to the NYC's training manual for carriage drivers (p. 36). It doesn't take much, either. It can be as subtle as a car door slamming, a plastic bag flapping in the breeze. At 1,200 to 2,000 pounds or more, a terrified horse attached to a carriage is dangerous when frightened. That is exactly what we saw in the mid-April carriage accidents in Georgia, Belgium, and California. No horse is "bombproof," although carriage drivers like to say otherwise until an accident happens. In New York City, carriage drivers are not required by law to report accidents. Thank goodness that people have smartphones with cameras these days to help keep the carriage trade honest. The public has a right to know how dangerous these carriage rides are.
Highly Regulated, or Hardly Regulated?
The danger is real and seriously concerning, given the lack of monitoring and enforcement of the carriage trade. Carriage drivers spend much time assuring politicians and public on the one hand that the trade is capable of self-regulation, and they tell reporters that their business is highly regulated. That may be true on paper, or sound true, but as the Coalition-requested 2007 audit of the trade by the city comptroller's office revealed, the agencies that share oversight have "dropped the ball" and left the trade to regulate itself. (New York Times, Sept. 6, 2007) Seven years later, the virtual absence of enforcement has never been more true.
A visit to the hack line near the Plaza Hotel or Columbus Circle or any place in between can be an eye-opening experience. It's a visual feast of dangerous and illegal activities (U-turns, whitewashed license plates, covered-up rate cards, unattended horses, overcharging, collecting sales tax) and reckless behavior (standing up in the carriage box, climbing out of the carriage box to take photos of tourists still in the carriage, drivers turning around backward to chat with passengers instead of watching traffic conditions and hazards).
Tourist complaints to the city are documented and have been ignored. It should be obvious to even the casual observer that conditions in New York City could never be modified in a way that would make would it safe or humane to operate horse-drawn carriages safely or humanely. It really is that simple.
Traffic is a prime example. Two of the carriage stables (on W. 37th and W. 38th streets) are approximately two miles from Central Park, a situation that forces the carriage horses to travel four miles a day in some of the worst traffic of any city in the world-past the entrance to the Lincoln Tunnel. Have you seen it at rush hour?
As if the danger to horses and humans weren't real enough, giving the horses a good quality of life is not a priority. It can't be, when horses are put in harm's way for profit and entertainment and live in firetrap industrial warehouse buildings without daily turnout and socialization.
Liam Neeson Is Protecting Drivers' Business Interests, Not Horses
Reporters and celebrities who wouldn't know a box stall from shower stall have been invited to visit stables and take part in photo opportunities, as part of a public relations campaign to sway the public from supporting a ban. Hosing down feces-stained walls and removing urine-soaked bedding in advance of a photo op with Liam Neeson may impress news media, but it's obvious that they neither know nor care that New York City carriage horses live in stables that are less than one-half the size recommended by independent horse experts. And if there was any doubt before, it's now crystal clear that local news media are on a mission to keep the truth from you.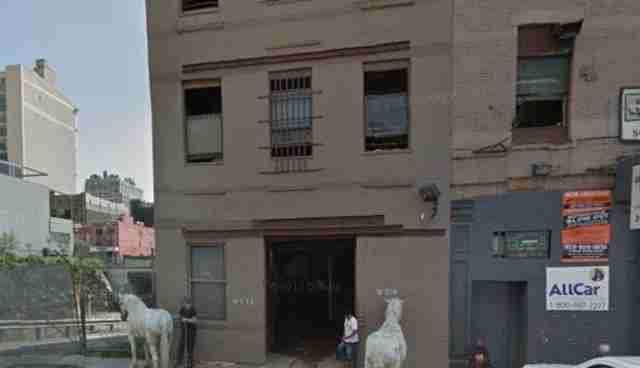 The public at large understands that this is an anachronistic and inherently inhumane trade that has outlived its welcome and must be shut down in 2014. Travel guide books including Fodor's and Frommer's advises tourists for forgo carriage rides, the latter deeming carriage rides one of the "Most Overrated Experiences in New York City and comparing it to a blight best left in the past.
"Pity those poor beasts of burden, who appear so forlorn as if pulling carriages is the last thing they want to do... Horses belong on city streets as much as chamber pots belong in our homes." (Frommer's)
Fodor's advises tourists to get around "like a local" and skip the horse-drawn carriages, which will leave you "guilt-ridden about the poor, plodding horse; and broke."
The Coalition to Ban Horse-Drawn Carriages' base continues to grow, with supporters from around the world who stand in solidarity in demanding nothing less than a ban, without compromise. New York City voters heard Bill de Blasio promise a swift ban on horse-drawn carriages, not a three-year phaseout. We are pleased that he has not wavered from his conviction and will ban horse-drawn carriages in 2014.
A ban is long overdue. The horses are suffering. They're dying. They deserve better. The New York Times and all the rest will look foolish for being on the wrong side of such an important issue, but that's all right. New York City will be a more humane place in the not-so-distant future.