President George W. Bush Spent Election Day Adopting A Puppy
"We already love him."
Nearly eight years after his term as President of the United States ended, George W. Bush is now embarking on what may be his most important role since - as the proud parent of an adorable rescue pup.
Last Tuesday, while the country was voting in a new commander in chief, Bush and wife Laura decided to drop by the SPCA of Texas, in Dallas, to thank the shelter staff "for their great work" - and, of course, to snuggle awhile with some of the adoptable pets there.
It's unclear if they had been initially planning on adopting a companion of their own that day, but that's what they did. Evidently, during the visit the former first family quickly became smitten with one needy puppy in particular - and decided to give him a forever home with them.
The name they chose for their furry new family member? Freddy Bush.
"We already love him, and even our cats Bob and Bernadette are finding Freddy's charm futile to resist," Bush wrote in a post online.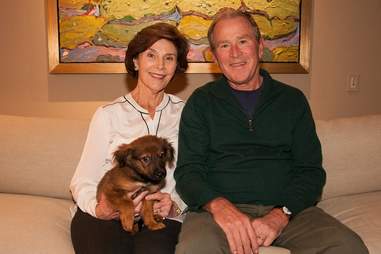 George W. Bush
Perhaps best of all, President Bush then went on to encourage others to follow his family's lead to create more happy endings for pets like Freddy:
"If you could use a little extra joy in your life, consider adopting a pet from an animal shelter or rescue group."