Burglar Alarm Leads Cops To Make The Cutest Arrest
Stop, in the name of the aww.
Deputies from Santa Clara County Sheriff's Office had no idea what was in store for them when responding to a home burglary alarm call in California on Tuesday. Upon investigation, the officers encountered two fluffy suspects on the premises who evidently made no attempt to even flee the scene.
Puppies!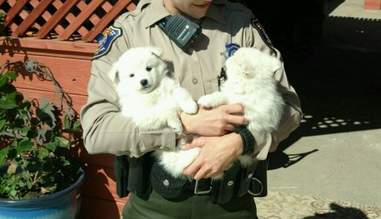 Santa Clara County Sheriff's Department
Afterward, the perpetrator pups were briefly detained for questioning and, of course, given a hearty cuddle. Apparently, that was good enough for all involved.
"Unknown if they were the actual culprits of the false alarm, but we have our suspicions," Sergeant Rich Glennon told SF Gate. "But they are adorable nonetheless."
Interestingly, this isn't the first case of canine involvement in suspected criminal activity. In fact, just last week a Great Dane in California was caught red handed during the investigation of another alleged home intrusion. He, too, got off with just a warning.