Baby Alpaca Finds The Perfect Big Brother To Show Her The World
This baby alpaca was brought to Australia's Almosta Farm sanctuary during Easter this year and was given the perfect name to match the timing - Bunny.
Almosta Farm
Unfortunately, Bunny, who is just a few weeks old, was the result of an accidental pregnancy.
Almosta Farm
Bunny's mother was too old to raise her, so she had to be put under the care of a family and forever home that could.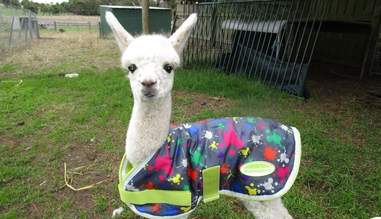 Almosta Farm
Luckily for Bunny, her move to Almosta Farm meant that she wasn't just getting a new home, but a new friend as well - in the form of a dashing brown alpaca named Cadbury.
Almosta Farm
Cadbury is still a baby himself at just 6 months old, but he's got the entire alpaca lifestyle down pretty well - and now Bunny is taking tips from the master. Cadbury was orphaned as a baby after his mother passed away from a deadly snake bite.
"Cadbury was raised with a lamb and a calf, but as soon as he set his eyes on Bunny, he knew they would have more in common," Sharyn Kostal, founder of the sanctuary, told The Dodo. "They adore each other."
It was obvious the two were a perfect match from their first encounter with one another ...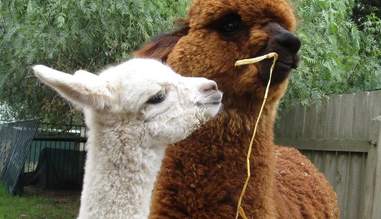 Almosta Farm
... which was filled with nose nuzzles ...
Almosta Farm
... and even more nose nuzzles.
Almosta Farm
The best part about Bunny's newfound relationship with her "big brother" is the fact that she really is learning so much from Cadbury - right down to the majestic sprint he does whenever it's time to greet Kostal.
See Cadbury's run here ...
... and now here's Bunny imitating his stride.
Bunny hasn't quite perfected the run, but has plenty of time to get it right, now that she gets to grow up alongside Cadbury.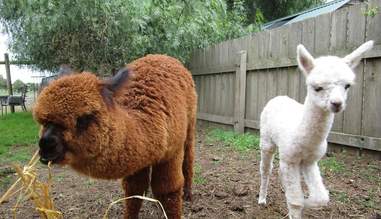 Almosta Farm
You can keep up with the adventures of these two on Facebook.