Family Chooses To Adopt Dog Even Though She Has So Many Issues
<p><em>Ashley Helkenn</em><span></span></p>
Schnitzel the English bulldog spent the first part of her life living at a puppy mill in Iowa, spending every day in a tiny cage. The conditions were horrible, and she was forced to give birth to litter after litter of puppies.
When Texas-based DFW Pug Rescue found Schnitzel and her siblings, it was completely by accident. Volunteers came to the puppy mill to rescue 37 pugs - and then they also saw the English bulldogs in their cages.
When the rescuers asked the owner what would happen to the bulldogs, she said that she would probably kill them.
So, of course, the rescue immediately took them, too.
Lone Star Bulldog Club Rescue took in three of the bulldogs, including Schnitzel (then called Angelina Jolie). When Schnitzel first arrived into the care of the rescue, she had countless issues. She had cherry eye in both of her eyes so severe that she could barely see at all. She also had demodectic mange, a severely sensitive stomach, an infected tail that had to be amputated, infected ears, kennel cough and pneumonia.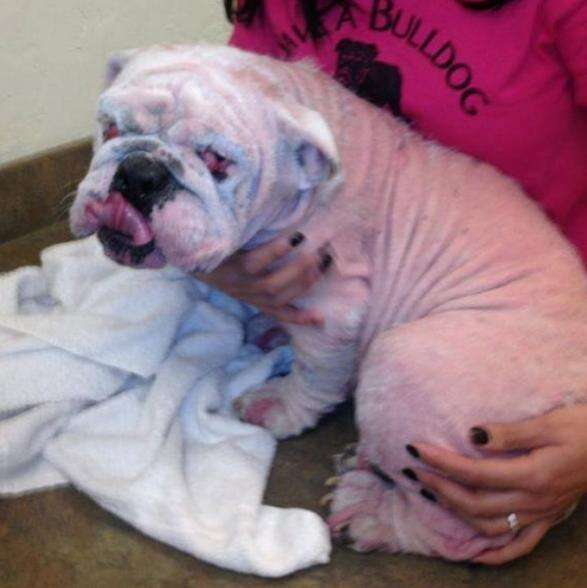 Soon, Schnitzel went into foster care. Her issues seemed endless, and it was uncertain if any family would be able to take her on.
But soon, someone fell in love with her.
Ashley Helkenn and her husband Hans wanted to adopt a dog to be a companion for their bulldog, Hummer, and were matched with Schnitzel through Lone Star Bulldog Club Rescue. While her husband was skeptical, Helkenn fell in love with the sweet girl immediately.
"I didn't find out for almost a year that Hans was much less sure of adopting Angelina Jolie than I was," Helkenn told The Dodo. "He couldn't understand why I would want a dog with so many issues. Hans knew that I knew it was a good fit, so he trusted it."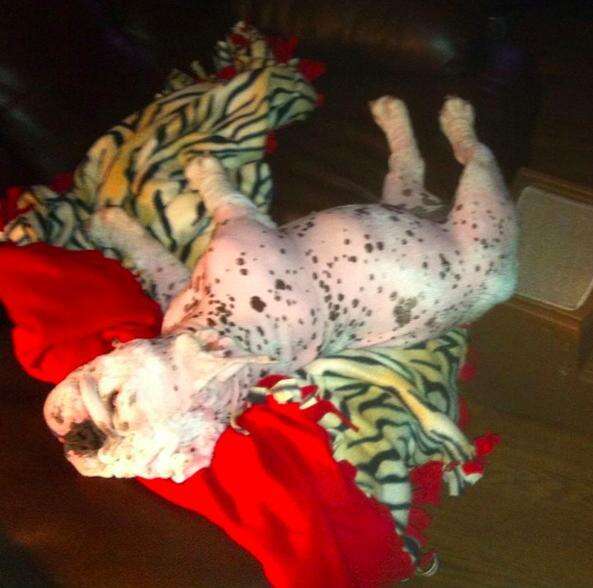 Helkenn knew that Schnitzel had many issues, both physically and emotionally, but she simply didn't care. "This dog had very little hair, preferred to be in her kennel, wasn't a cuddly lap dog and she had to eat a special diet," Helkenn said. "But there was something about her I connected with. She had every reason to hate people and want to lash out at them, or to be so filled with fear that she couldn't trust people. But she wasn't like that."
Schnitzel had trouble adapting to life in her new home at first, but her parents never gave up. She had no idea how to cuddle on the couch and struggled with being house-trained. Her diet had to be very strict, and any missteps would cause her severe issues for weeks at a time. Slowly, though, she adjusted.
"She lived with a sense of giving people the benefit of the doubt, instead of making people prove themselves," Helkenn said. "She was skittish sometimes, but more than that she was brave enough to power through it. Looking back, I think I thought that maybe I could learn some of those lessons from her."
One of the biggest issues Schnitzel faced in her new home, however, was her new brother Hummer. Everything was going fine at first - until Hummer was diagnosed with dementia.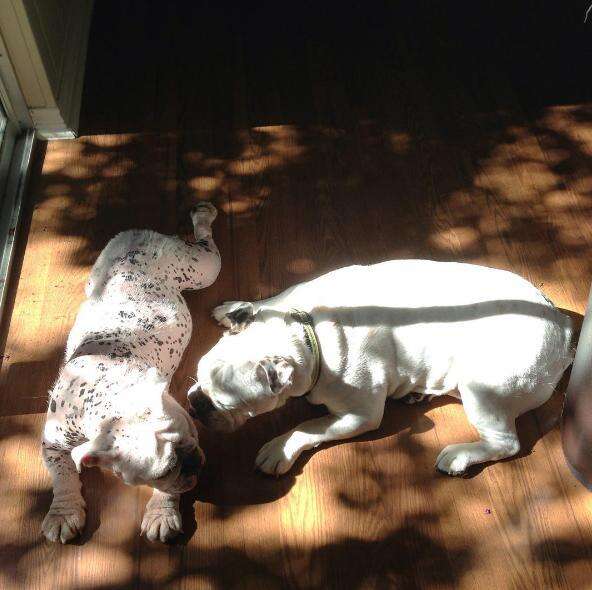 "He kept getting more aggressive and would act like he had no idea who she was," Helkenn said.
Eventually, the pair developed a routine and they were able to be around each other with few issues. The real solution, though, was when their new brother Bratwurst arrived.
Bratwurst (previously Brad Pitt), was also rescued from the puppy mill. He was fostered with Schnitzel initially and later adopted, but his new family ended up not being able to keep him. They contacted Helkenn to see if her family would want him, and they said yes - depending on if Hummer and Schnitzel got along with him.
And, miraculously, both did.
"Bratwurst is the most laid-back dog I have ever met, so Hummer is good with him," Helkenn said. "Bratwurst is also more aware of the fact that Hummer can turn crazy quickly and keeps an eye on Hummer's mood."
Bratwurst also helps to keep Schnitzel calm, and has helped ease many of her lingering anxieties. "She would always pace in the car on rides, but she saw him lie down and knew that it was safe for her to do the same," Helkenn said. "And if she ever gets scared and barks, Bratwurst will get up and go check on her. If she goes in her kennel, he will get in with her and stay there until she feels safe."
Bratwurst is now able to act as a buffer between the two dogs, and was the missing piece to their little family all along.
Schnitzel and Bratwurst started life together in the puppy mill and somehow ended up together again - in a supportive, loving family.