Chunk the bulldog pup has just gotten a brand new bed, and he can hardly contain his overwhelming excitement. There's room for so many activities now! Room for jumping, and pouncing, and hopping, and rolling ... the possibilities are endless.
But all of that celebrating can be a tad exhausting, and Chunk has to stop and take a breather for a moment. A new bed can be pretty overwhelming for a little puppy.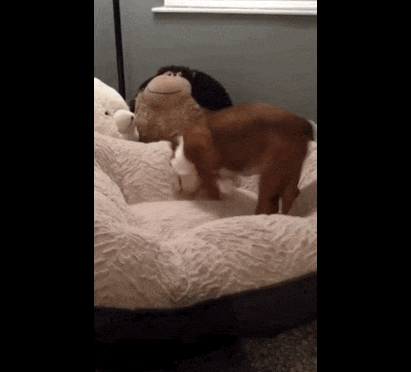 Hm. Maybe he should just lie down and take a nap. Which is really what beds are for, right?
NOPE. Chunk gets himself all revved up again - so much so that he actually topples off of the bed in a flurry of playtime energy. Fortunately his stuffed animals are there to catch his fall.
Chunk has had a very exciting month. Not only did he get a new bed, but he recently walked down the stairs for the first time in an impressive feat of courage!
You can watch Chunk's full bedtime celebration below: