Two bulls were wandering around a crowded shopping area in India recently, when they began to fight, and things got a little out of hand.
One of the bulls passed out - right through the window of a nearby clothing shop.
Team members with Animal Aid Unlimited heard about the fallen bull and rushed over to help him. Rescuers pet him and tried to calm him down, letting him know that help was there and he was going to be OK.
A crowd of concerned locals gathered outside the shop, all wanting to make sure the bull would survive the incident.
In order to safely transport the bull out of the shop, rescuers tied his legs together so he couldn't accidentally kick anyone on his way out, or injure himself in the process. Some local police officers even stepped in to help.
Slowly and carefully, rescuers were able to pick up the injured bull ...
... and navigate him into the street outside.
After getting him safely out of the shop, rescuers with Animal Aid Unlimited took the bull, later named Goldie, to get treatment and rest. He seemed to know he was finally safe and, after only 2 hours, Goldie stood up on his own again.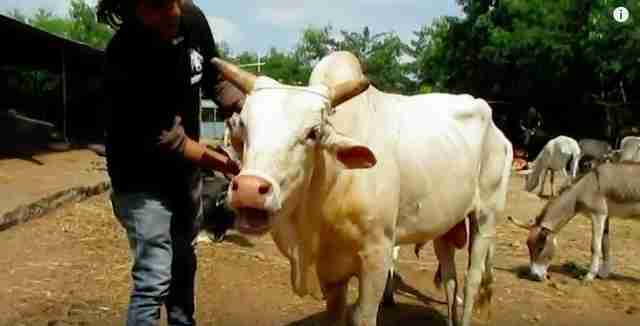 Today, Goldie is going to be just fine, thanks to the community and rescue team who rallied together to help him.
You can watch the full video of Goldie's rescue below: