Brave Pit Bull Puppy Starts To Recover From Her Dark Past
Buggy is finally getting her puppy on.
Thing is, it couldn't come at a worse time.
Just a week earlier, the pit bull mix had washed up at a Brooklyn animal shelter in indescribable agony. Just weeks old, her leg was severely broken. No one knows exactly how it happened. It may have been the result of a drop, or even a kick.
When Marisa Grimshaw of Mr. Bones and Co. arrived to pull her from the shelter, Buggy couldn't stop hugging and kissing her despite the pain.
Mr. Bones and Co.
Last week, Buggy underwent extensive surgery to repair her leg. Now, her road to recovery is paved with medical precautions.
"She can't be off leash playing with other dogs, indoors or outdoors," Grimshaw tells The Dodo. "She's not meant to be going up or down steps. She isn't allowed on furniture, because you can't risk jumping on or off of it and injuring her leg."
In other words, the opposite of everything puppies stand for.
Mr. Bones and Co.
You see, Buggy wants to play. But her body is still mending from a cruel blow that robbed her of so much of her puppyhood.
"She definitely doesn't act like she's injured or just had surgery," Grimshaw says. "She's very wriggly now and very cute and playful. She gets really excited to come back in from a walk.
"She starts to wriggle in the lobby of my building and wag her tail and she wants me to pick her up."
But Buggy is definitely still rattling down a long road to recovery. The range of motion in her knee remains minimal.
Someone needs to tell Buggy that.
"She's a typical puppy," Grimshaw explains. "She gets into really frenzied mouthing periods, which is very much like any other puppy. But unlike any other puppy, she can't exercise and she can't play and run around."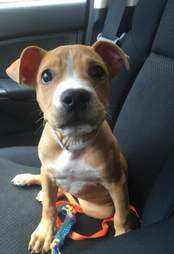 Mr. Bones and Co.
Sorry, Buggy. For now, it's short but frequent walks, bully sticks and peanut-butter-filled balls.
Doctor's orders.
What to do with all that pent-up puppiness? Well, soak up the love that you started life so badly missing.
"She's so affectionate," Grimshaw says. "With every single person who passes by her on the sidewalk, she kind of slows down and starts wagging her tail hoping they'll stop and say hi to her."
Mr. Bones and Co.
Mr. Bones, the organization that rescued Buggy and continues to care for her, is accepting applications to adopt her.
"They would have to be committed to continuing with her recovery," Grimshaw notes. "By the end of the summer, she should be back to a normal puppy and able to resume activity and play."
For this puppy, the end of summer couldn't come soon enough.