Orphaned Baby Orangutans Are Now Best Friends And Even Munch On Fruit Together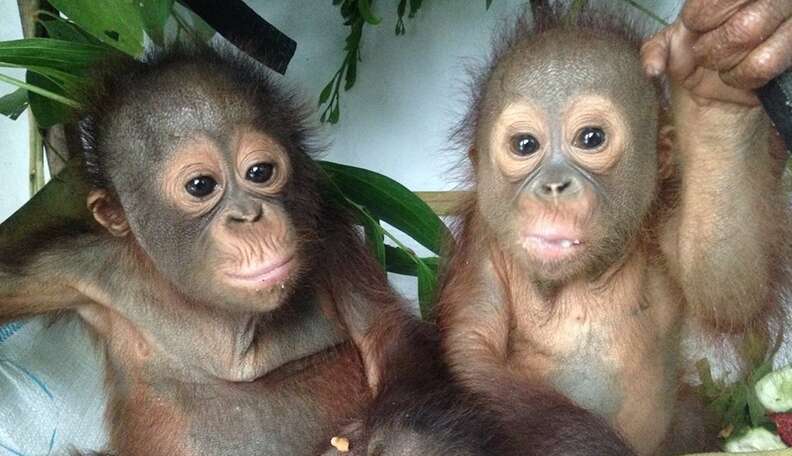 <p><a href="https://www.facebook.com/internationalanimalrescue/photos/pb.8539814909.-2207520000.1428434830./10153201633369910/?type=3&theater">Facebook/International Animal Rescue</a></p>
Budi, the little orangutan who stole everyone's hearts when he was rescued from life in a chicken cage, is back - and his friendship with a fellow orphan is blossoming.
A recent video posted by International Animal Rescue (IAR) shows Budi and his new friend Jemmi chowing down on fruit in their hammock.
As can be expected of toddlers, they're very messy.
Snatched away from his mother as an infant, he had spent the first year of his life in a chicken cage surviving off condensed milk.
The little ape was so malnourished that his tiny body was swollen, and he would scream and cry whenever anyone touched him.
Jemmi, who's also around a year old, spent several months of his young life tied up in a box outside someone's home, hugging a bolster pillow for comfort.
The baby orangutans are just two small victims of the illegal wildlife trade, which takes tens of thousands of lives every year. Mothers are often killed so their babies can be snatched from under them and sold into the exotic pet trade, while thousands of other animals are killed for exotic meat, fur and various body parts.
Fortunately for Budi and Jemmi, they have a home at IAR - and they have each other. The little orphans, who were introduced last month, are quickly becoming the best of friends. The pair spends their days in an enclosure playing on their jungle gym, and sleeps together in a cozy hammock at night.
"If Budi is taken into the day enclosure first he will keep looking back for Jemmi," IAR wrote in a Facebook post. "If left on his own, [he] will cry until his new friend joins him."
You can watch the full video below: