Orangutan Babies Pile Into Best Cuddle Puddle Ever
<p><a href="https://www.facebook.com/internationalanimalrescue/photos/pb.8539814909.-2207520000.1430254341./10153201639394910/?type=3&theater">Facebook/International Animal Rescue</a></p>
This adorable video of two orphaned orangutans meeting their new friends will make your day.
Budi and Jemmi were both rescued earlier this year from sad lives as exotic pets. Budi was kept in a chicken cage, while Jemmi lived in a box with only a bolster pillow for comfort.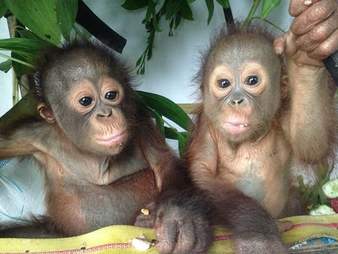 Now, the chipper little youngsters are thriving at the International Animal Rescue (IAR) in Indonesia, learning to climb and eat fruit together and even sharing a little hammock when they go to sleep at night.
And they even have a group of new friends. They were recently introduced to IAR's other orphans, who quickly took the young pair under their wing.
The older group was very curious about the two youngsters.
Though there were a few hair-pulling missteps...
... they quickly settled in.
In just a short time, they were even piling onto each other like old friends ...
... which seems to be their favorite game.
Budi and Jemmi were both snatched away from their mothers as infants, and for most of their short lives were cut off from any contact with their own species. We hope this new group of friends will help socialize them with other orangutans, and allow them to one day be released into the wild.
You can watch the full video below.