Orphaned Possum Who Survived Cat Attack Loves Cuddling Up To His Rescuer
"He was so frightened ... but I was determined to give him a chance."
Last October, a baby brushtail possum was found lying on the side of the road in a suburban neighborhood in Australia. He was covered in blood, and had a deep wound on the side of his face. A woman scooped him up, but she thought he was going to die.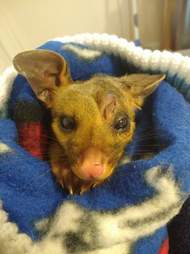 Amaroo Wildlife Shelter
"The lady knew right away that the little possum was too young to be away from his mum, and that he wasn't looking good," Nicola Rae, founder of Amaroo Wildlife Shelter, a rescue and rehabilitation center that cares for Australian wildlife, told The Dodo.
The woman then rushed the possum to Rae, who was devastated to see how bad his injures were.
"The wound on the left side of his face was covered in blood," Rae said. "We clipped his fur away to see how bad the wound was, and realized he had a deep puncture wound into his skull just above his eye socket."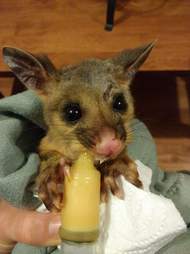 Amaroo Wildlife Shelter
Rae gave the possum - whom she named Tamala - a shot of antibiotics and pain relief right away. After putting him on the scales, she discovered that he weighed less than half a pound, which helped her determine that Tamala was about 5 months old.
"He was so frightened and the wound in his head was so deep, I thought he would pass away overnight," Rae said. "But I was determined to give him a chance."
Amaroo Wildlife Shelter
The nature of Tamala's wounds led Rae to suspect that a cat had bitten him. Unfortunately, domestic cats kill a lot of wildlife in Australia, especially babies who can't defend themselves very well. For this reason, it's recommended that people keep cats indoors. Not only does this keep wildlife safe, but it keeps cats safe, too.
After treating him, Rae tried to keep Tamala warm.
Amaroo Wildlife Shelter
"I placed his cold little body in a fleecy pouch and put him straight down my shirt to warm him up, where he could feel my heart beating and feel safe," she said. "Once he warmed up, I could feel him stretching out and relaxing while he slept. I think he really enjoyed being cuddled up to me, safe and warm."
At first, Tamala didn't eat - he was too sick. But after about eight hours, he finally took his first bottle.
Amaroo Wildlife Shelter
"I proceeded to feed him every four hours around the clock, and he drank as much as an orphan at his age should, which was really surprising!" Rae said.
Things were looking good for Tamala, but he wasn't out of the woods yet. In fact, a few days after his rescue, he started to have seizures.
Amaroo Wildlife Shelter
"At one point, I was very close to euthanizing him as he was behaving in a very odd way and seemed to have something very seriously wrong with him," Rae wrote shortly after Tamala's rescue. "Then he seizured."
But Rae refused to give up on Tamala. She continued treating him, hoping he'd pull through.
Miraculously, he did pull through. The seizures stopped, his wounds healed and he started gaining weight.
Amaroo Wildlife Shelter
"Sometimes I can't believe he actually made it this far," Rae told The Dodo. "I'm so glad I made the decision to persist with treatment."
Tamala is still too small to be released, but Rae hopes he'll be ready in about a month - after he's gained more weight and muscle.
Amaroo Wildlife Shelter
"Hand-reared possums need to be fit and brave before we send them out again," Rae explained. "We don't want them going out and getting beaten up by other adult wild possums, or attacked by cats and foxes because they are not fit enough to get away."
Amaroo Wildlife Shelter
When Tamala is ready to go back into the wild, Rae knows just the right place to release him.
"He'll be returned close to the area he was found, where there are lots of trees and food for him to eat," Rae said. "We'll provide him with a very well-built solid box up the tree to nest in. Tamala is one very special possum and I'm so happy we could help him. The future's looking bright!"
To help Tamala get back into the wild, and help Amaroo rescue and rehabilitate other animals, you can make a donation here.