My Rescue Dog Understands What It Was Like To Hit Rock Bottom
"We have both known pain, fear, hopelessness."
He wasn't going to last much longer.
A nameless stray scouring the uncaring streets and trash-strewn beachfronts of Puerto Rico, an island where some 300,000 homeless dogs struggle to survive in searing Caribbean heat and thunderous tropical downpours. Relentless ticks and mosquitos. Dogs mauling each other for morsels of rotting food and access to putrid water sources. So notorious is Puerto Rico's stray dog problem, the island actually has a place called Dead Dog Beach.
For most, the only mercy is death, and this dog was at its doorstep. His tail had been severed, most likely in a fight with a fellow doomed stray. A gaping scar on his snout, an inch-long tear in his ear, a missing toe. If an infected wound - or another fresh one - didn't kill him, his heart, infested with heartworms, was a ticking time bomb. So was the tick-borne ehrlichia slowly ravaging his blood cells.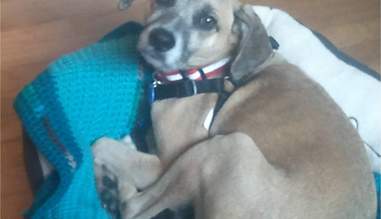 Vector was, understandably, a nervous wreck for the first few months of his new life with us.

| Christopher Dale
I wasn't going to last much longer, either. After a years-long battle with crippling anxiety and depression, I was approaching the bottom of the spiraling staircase that is alcoholism. I was unemployed, and unemployable. I had been thrown into rehab drunk and thrown out of AA meetings even drunker. Divorce and homelessness were the next, and perhaps last, steps.
I was in debt, in denial and in deep. And then one October night five years ago, I was in jail. I had blindsided - blind drunk - a taxicab in the Holland Tunnel, and obliviously kept going. Cops tend to not like that very much.
I came to in a holding pen, and haven't had a drink or a drug since. My drinking started in bars, and ended behind them. It's overly simplistic to say I was scared straight; but that fear, and that humiliation, was enough to get me started on a journey of recovery that, half a decade later, has led to a happy marriage, fulfilling career and, as of this past March, proud fatherhood.
For Vector, the suddenly-no-longer-nameless stray dog, rescue would be far less inglorious. The bars on his cage would be protective rather than penal, courtesy of the modern-day saints at The Sato Project, an organization committed to saving the imperiled packs of unclaimed canines roaming the Dead Dog Beach area. Real food, clean water, a bath. A safe place to sleep, and sorely needed veterinary care.
Shortly thereafter, a flight. To New York City, to a kindhearted foster family. And finally, a few weeks later, to his new forever home. My home. Our home.
Vector meets his new mom in September of 2013

| Christopher Dale
So here we are, a couple of post-traumatic pals. Both a bit scared and more than a bit scarred. Two beings back from the brink of the abyss.
For me, Vector would be easy enough to love without my troubled history - or, for that matter, without his. As evidenced several times over, Vector exudes a level of cuteness my wife and I call "stranger-stopping." More than a few people - children, couples, even lone, tough-looking grown men - have stopped in their tracks and gushed at the sight of his fawn-colored, floppy-eared, nub-wagging adorability.
And once they stop, Vector has an easy amiability - no doubt accrued over years of street begging - that is assertive without seeming aggressive. Passersby fall for Vector just by briefly patting his head; I have the luxury of cuddling with him on the couch each evening.
But the tighter bond I feel with Vector stems from our common dichotomies. We have both known pain, fear, hopelessness. We have both had the odds stacked severely against us. We have both faced prolonged emergencies that swept us right up to the edge of death. Or, in my case, a lengthy prison sentence.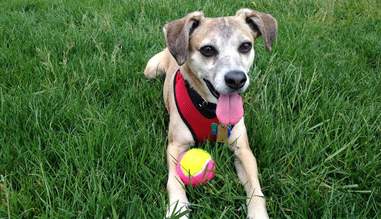 Vector

| Christopher Dale
But we're not dead. And we're no longer in cages. We're here, in my spacious backyard, playing fetch in the grass and sunshine. The chances of this coming to pass a few years ago were so remote they approached impossibility. The combined unlikelihood that led us to this point make our loving relationship perhaps the greatest miracle of my life.
I wonder if Vector remembers any of his harrowing history. I'm unsure whether or not I would want him to. I'm not certain which is preferable: a survivor's gratitude, however haunted, for the plenty of today, or the eternal sunshine of a spotless mind.
On September 25, Vector celebrated three years with our family. Based on his vet's educated guess, we're calling him 6 years old.
Birthday meatloaf!

| Kevin Dale (Vector's Grandpa)
On October 10, I will celebrate five years clean and sober. Just a few months later is my 10th wedding anniversary. Another bisected history - this one of a family that nearly never was.
Each day, Vector and I walk a little further from the abyss together, leash in hand and tennis ball in mouth. There is no end in sight, because the bitterest of all endings is behind us.
September 2016: A much better beach

| Patricia Li