African Leaders In Washington: How Do We Win The War On Poaching?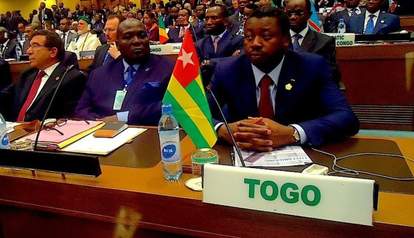 This week is the U.S. African Leaders Summit, bringing together 50 African leaders with President Obama and U.S. Secretary of State John Kerry. Topics of discussion during the three-day summit include security, trade and governance. Here, African leaders and U.S. Secretary of the Interior Sally Jewel sit in a casual setting, exchanging niceties and discussing the decimation of our world's wildlife, mainly its elephants.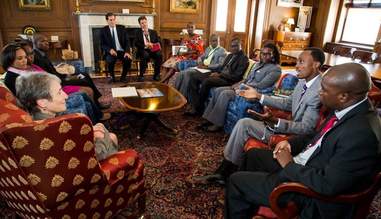 Namibia, Tanzania, Togo, and Gabon meet with the U.S. Secretary of the Interior to discuss wildlife trafficking. (Photo Source: U.S. Department of Interior)
During the wildlife trafficking discussion, Tanzanian President Jakaya Kikwete seemed frustrated over the lack of unity throughout neighboring countries.
"The elephants are killed in Tanzania," said Kikwete, "but the consignment [of ivory] came from Kampala, Uganda. And moved through Mombasa [Kenya's main port]. So there is definitely need for working together."
Togolese President Faure Gnassingbe expressed concern over elephant poaching, a seemingly odd sentiment as Togo has no elephants. Yet, he stated, tusks confiscated in Hong Kong and Malaysia have been traced back to Togo. "This is an embarrassment. We don't want to be seen as a country that kills elephants it doesn't have."
Tusks from Gabon's forest elephants were tracked through Togo en route to Asian countries. (Photo via Tchebe.over-blog)
Togo's role in the ivory trade was discovered about months of investigation.
"Many of those tusks came from ... my friend's country," Gnassingbe said, turning apologetically toward Gabonese President Ali Bongo Ondimba.
Gnassingbe went on to say that until the U.S. brought this up, Gabon had never mentioned the issue of poaching. In fact, he said, this is the first time many of them have had this discussion in a group setting. This begs the question: Why is there no continental strategy to end poaching?
When asked what they would like from the U.S. to combat poaching, the overall consensus was equipment. The ranger death toll is escalating, as they are deep in a war in which they are outmanned, outgunned and undertrained.
Namibian President Hifikepunye Pohamba asked for helicopters, Tanzania's Kikwete requested night vision goggles, Togo's Gnassingbe wants infrared scanners, and Gabon's Ondimba military support.
Additionally, Ondimba apprehensively brought up the proverbial elephant in the room: diplomatic pressure on China. "Let's kill the market. We'll save the animals, we'll also save human beings."
Gabon forest elephants. Photo: NHPA