Tiny Squirrel With Brain Injury Is Never Left Alone
<p>Sara Adams</p>
<p>Sara Adams</p>
A squirrel named Tumbleweed gets a lot of love and care.
Because his life depends on it.
Tumbleweed has hydrocephalus, a condition that means water in his head is putting pressure on his brain.
When Tumbleweed was finally brought to a woman named Sara Adams in South Carolina, his two siblings had already died at just 14 weeks old.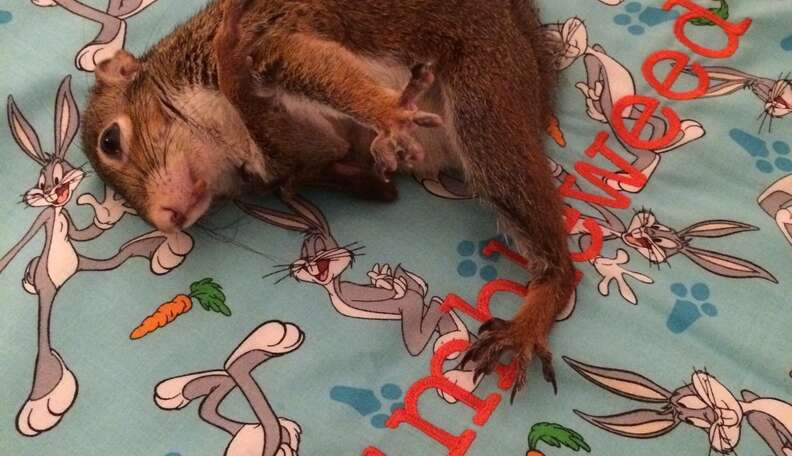 "Had he been given to someone who knew how to raise baby squirrels, we could've helped him a lot sooner," Adams told The Dodo. "The person who originally found him and his siblings kept them for 15 weeks and did everything wrong."
When Adams took over his care, she raised $1,200 and got him a CT scan, which is how she found out about his condition - and that a whole third of his brain is missing.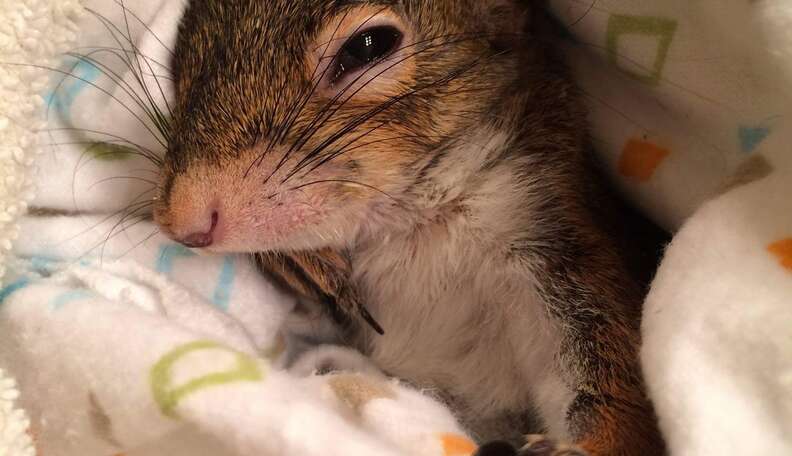 This is why Tumbleweed needs round-the-clock care - something Adams has provided for him since he came to her in November 2015.
"We never leave him alone. When I'm at work, his aunt Lulu watches him for me," said Adams, who has successfully raised and released three other injured and orphaned squirrels over the past few years.
"He can't walk on his own, but we have a custom-made harness that allows him to feel the freedom of walking," Adams said. "We have to make him homemade baby food and syringe feed it to him since he doesn't have the coordination to hold his own food."
Thanks to his caretakers' dedication, on August 2, Tumbleweed will be a year old.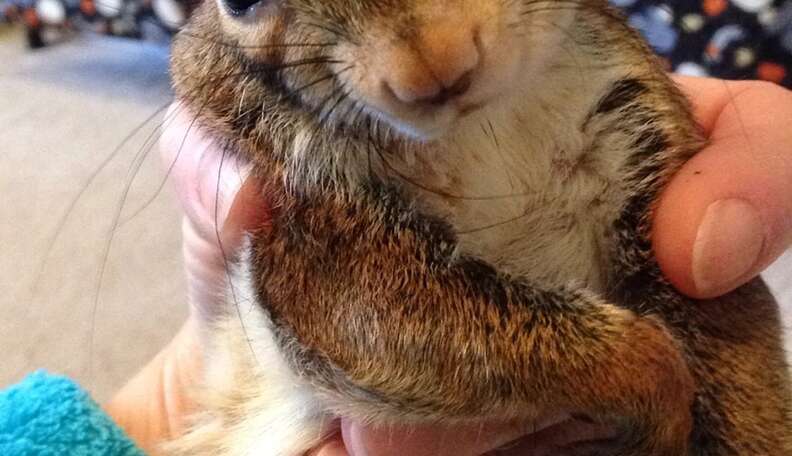 "He's a happy little guy," Adams said. But she's working on getting Tumbleweed to the neurosurgeon so he can also have a chance at a long, healthy life. Currently, she's waiting for the results of some tests to see if Tumbleweed qualifies for a special surgery to alleviate the pressure on his brain.
"The surgery is risky, but it's his only shot at living," Adams said.