Boy Caught Sneaking Into Neighbor's Garage To Give Dog A Hug
Trespassing has never been so cute.
Up until recently, Louisiana resident Hollie Mallet had something of a mystery on her hands. A surveillance camera installed in her garage, presumably there to catch any would-be robbers, recently caught a different sort of thief entirely - a little boy sneaking inside to steal a hug from her dog, Dutchess.
This wasn't the first time the boy had dropped by, either. Mallet wasn't upset, of course, but rather, quite the opposite. So, she took to Facebook in hopes of bringing the secret snuggler out of the shadows:
"Attn Neighbors! Anyone know who this sweet little boy is? Every now and then when he rides his bike he will quickly come and love on my dog or play fetch real quick, but always leaves quick like he doesn't know if he should be here! I'd like to tell him he's welcome to stay and play, she loves the attention!"
Among those who saw the video was Ginger Breaux. She recognized her son Josh immediately, and let Mallet know.
"I was surprised and a little upset with him at first but at the same time my heart was full because I know how much he loves animals with dogs being at the top of his list," Breaux told The Dodo.
With the mystery now solved, Mallet was quick to invite Josh for some more conventional playdates - and of course, he's taken her up on the offer.
"Since I've talked to Hollie, he's been almost every day," said Breaux. "He's taken a few pics with Dutchess, played fetch, laid in the yard with her in the shade, runs around the yard with her or just a quick stop to pet her and say hi."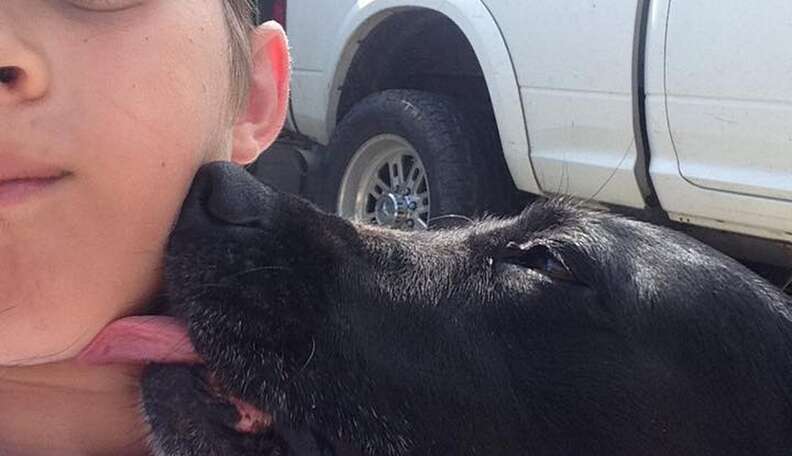 Though few parents would wish to see their children trespassing on a stranger's surveillance camera video, Breaux now recognizes the footage as revealing something truly touching:
"A boy who just can't help but to show his love for dogs or this dog in particular. The simple video truly captures the kind of kid he is, and I love that!