Boy Tries To Sell His Favorite Toy To Save A Stray Dog
He wasn't expecting what happened next.
Nine-year-old Mauco Abeiro may not have much in terms of material possessions, but his generous spirit despite that fact just changed the world for a creature who needed it most.
Last week, while out playing with his younger brother, Mauco befriended an injured dog living on the streets near his home in Guaymallén, Argentina. Rather than leave the pup to fend for himself with what appeared to be a broken leg, Mauco decided to carry the dog back home with him, even though his family has little in the way of resources themselves.
"I had told them that we could not have pets, since we are in a very bad economic situation," Mauco's mother, Laura, tells The Dodo. "We could not afford treatment for the dog. But then Mauco arrived one day from school and said very firmly, 'Mom, I'm going to sell my skateboard to take him to the vet.'"
The skateboard was one of Mauco's favorite toys, but he was willing to part with it if that meant saving the dog's life. So, he went online to advertise his offer:
"Hi I'm Mauco, Laura's son. She lent me her Facebook because I don't have one," he wrote. "Look at this puppy. I found him in the street. He is sick and has a broken leg. I fed him and gave him a bath, but he needs treatment. I'm selling my skateboard to take him to the vet. If anyone is interested in the skateboard, leave your number here so my mom can call you. Thank you, Mauco."
He couldn't have been expecting what happened next.
It seemed no one was very interested in purchasing young Mauco's skateboard - but that didn't stop his simple post from going viral. Within a matter of days, it was shared thousands of times online by folks moved by Mauco's gesture of love for the pup.
"We heard from people all over the world," says Laura. And with that came enough financial support to get the dog the help he needed.
In the end, Mauco didn't have to part with his cherished skateboard after all.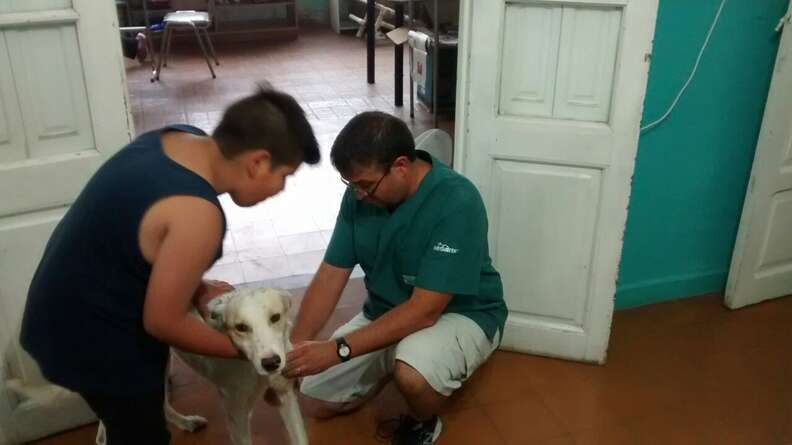 That stray dog, who just a short time earlier didn't have a friend in the world, now has so much more. Mauco has since named him Rocco. He's still recovering from his injured leg, but that won't be a journey the dog will have to face alone; he's now part of the family.
"Rocco runs slowly, but at least he is already running," says Laura. "And Mauco is very happy. Things have not been easy for our family lately, but he never lost his love for animals."