The presents brought to this 9-year-old boy's birthday party weren't filled with Lego's, or action figures or games.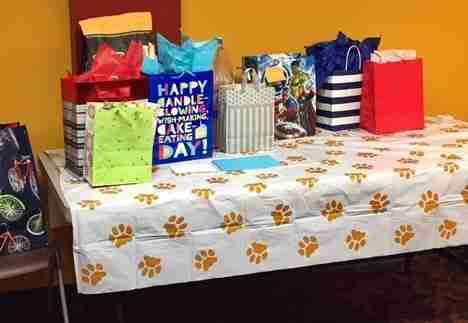 Instead, the gift bags contained things like dog food, puppy toys and treats - exactly what the birthday boy had asked for.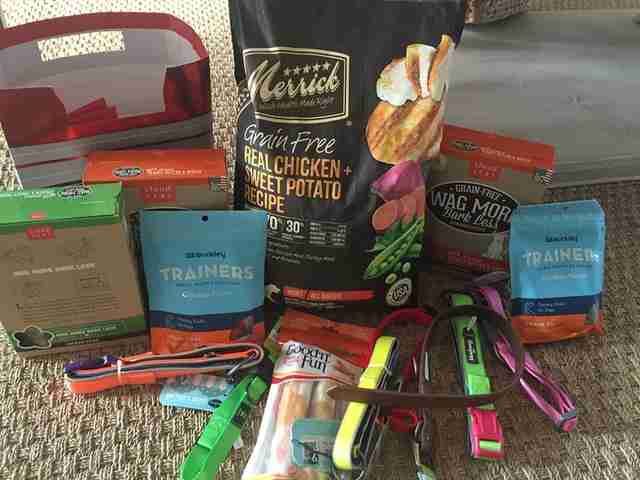 Nico Barillas, who lives in Austin, Texas, has Down syndrome. He is mostly nonverbal and communicates using an iPad app. But he knew he wanted supplies to help rescue dogs for his birthday.
When his parents asked him what he wanted, "he kept tapping out 'dog toys,'" Veronica Barillas, Nico's mother, told The Dodo. "We thought, 'That's weird, we have a million toys for our own dogs.'"
But then, Nico tapped out, "Dog toys for all dogs."
"He's always had this huge love for dogs," Barillas said, "So we said, 'You want to give them to the puppies who don't have homes?' And he responded, 'Yes, yes, yes, yes,' on his iPad."
So, the invitation with Nico's idea went out to his classmates and friends. And it was a huge hit.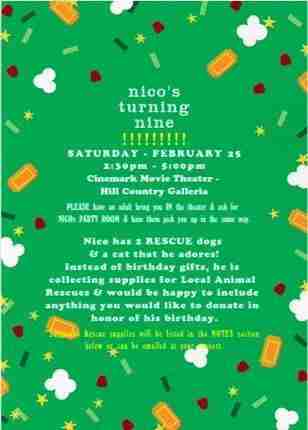 Along with the dog gifts that poured in, some of Nico's pals were inspired and wrote cards saying they'd like to do something similar for their birthdays, too.
"It was so heartwarming, the excitement it built with the kids," Marty Barillas, Nico's father, told The Dodo. "You can just sense they knew it was different. They are actually giving something to help these pets. They embraced it. The excitement went from the children to the parents, too. Now they keep telling us what a great idea it was."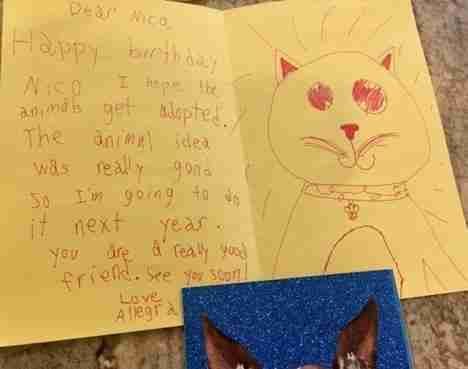 Nico was thrilled as well, Veronica Barillas said. "We sifted through all the presents when we got home," she said. "He was so excited opening them. He was so much more excited when he opened these dog things than he was at Christmas."
The Barillas donated the gifts to Addicus' Legacy, a rescue organization that has saved hundreds of dogs from high-kill shelters in Texas. "Addicus is so lucky to have supporters like 9-year-old Nico," Amy Stanton, who helps run the group, told The Dodo. "He is an extraordinary child and embodies a giving spirit that is an inspiration to both young and old."
Sampson, a lab mix who lives in an Austin-area foster home, was one of the dogs to receive Nico's gifts. The ball-chasing, friendly, 3-year-old pooch was quite happy to chomp on some of the donations, according to Stanton. (Sampson can be adopted in the Austin area or in New England, where the rescue transports dogs to new homes.)
Nico's parents said his affinity for animals is much larger than his birthday party gift idea. "When he was born, we had two dogs and a cat. They loved him and never left his side," Veronica Barillas said. "They slept by him and I think he felt them around him at such an early age that he's never been afraid of them. They've been there since the beginning. I think it's an innate thing with him."
As Nico grew older, his parents said that affinity revealed itself as more of a "gift" that lets him relate to animals. They said Nico can reach an animal in ways others can't.
For example, the Barillas' neighbor has two very skittish, formerly feral cats. "They don't let me touch them, but they let Nico pet them," Veronica Barillas said. "It's really weird! What sense does he have that not everyone has that he can have this relationship with these animals?"
Nico's parents said he flourishes with animal interactions and they predict it will be his calling when he grows up. "We read these stories about Down syndrome kids being successful," Veronica Barillas said. "I think, the way he is around animals, rescue is going to be his path."