Bouncy Baby Goat Wants To Show Mom She's Just Like Her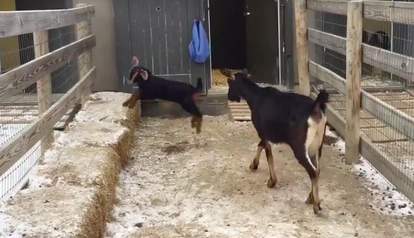 <p><a href="https://www.facebook.com/farmsanctuary/videos/vb.19575923823/10153984847488824/?type=2&theater" target="_blank">Facebook/Farm Sanctuary</a></p>
Some of us prefer to lounge around during the winter, retreating to hibernation mode where the blankets are cozy and the hot cocoa is warm.
Others, like this chipper little goat named Maggie, need to burn off all that excess energy we've stored up during our time spent indoors.
What better way for an antsy goat to get some exercise than to bounce around an animal sanctuary? Especially when playtime means mom comes outside, too.
Now that Maggie is a bit more stable on her once-wobbly legs, she can run and jump around her new home as fast as she wants, often with Olive or one of her goat siblings in tow.
Or, you know, her caretakers.
But, after a day of unabashed frolicking with her mom, little goats can get tuckered out, too, just like us.
That's when goat PJs come in extra handy.