First-Of-A-Kind Footage Captures Endangered Florida Bats Yawning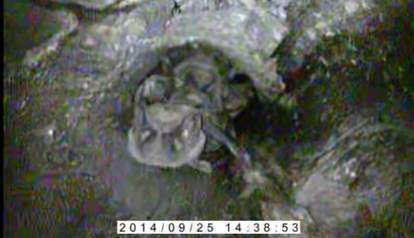 <p><a class="checked-link" href="https://www.youtube.com/watch?v=8P3LADCYUxo#t=31" style="text-decoration: none;">YouTube</a>/<a class="checked-link" href="https://www.youtube.com/channel/UC5IgbJtIkvHm13FKYJOvPiw" style="text-decoration: none;">MyFWCsocial's channel</a></p>
When U.S. Fish and Wildlife Service researchers captured the bats on camera, they heralded it as the "first-ever video" of a bonneted bat roost in the wild.
Florida's bonneted bats are few and far between, but they're setting down roots in new parts of the Sunshine State. The roost was discovered in an air force range near Avon Park, Fla., in late September.
"This is a remarkable and significant find. It's the first active natural roost that we've confirmed," said Larry Williams, an ecologist with the Florida division of the USFWS, in a statement. The discovery comes a few weeks after a bonneted bat was spotted living on a golf course, close to Miami.
The bats, however, seem to be less impressed. "The bats definitely yawned a lot, we probably woke them up. I think some were scratching or grooming," one biologist said, according to the Florida Fish and Wildlife Commission video.