Motherless Bobkittens Prove Friendship Makes Life Worth Living
<p> PAWS Wildlife Center<span></span> </p>
These little bobcat kittens might have lost their mothers - but they found each other.
PAWS Wildlife Center, a Washington state rescue, took in the first kitten last summer after he was found alone on the side of a road; his mother either abandoned him or was killed.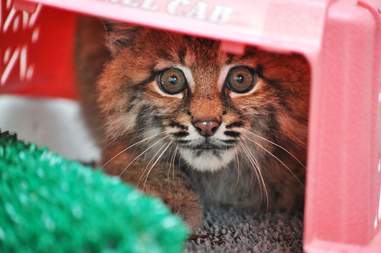 PAWS Wildlife Center
Unable to survive on his own, he was brought to PAWS so he could grow up safely. While adult bobcats are normally solitary animals, rescuers knew the kitten couldn't thrive while cut off from his own species.
"Without mom they have to learn to be bobcats," Jen Mannas, PAWS' wildlife naturalist, told The Dodo. "We want to make sure that they have another individual with them, because they kind of learn from each other."
PAWS Wildlife Center
PAWS was contacted by another rescue, which had recently admitted a tiny orphaned kitten, and jumped at the chance to introduce the two. While the new pair was initially skeptical, they quickly became best friends.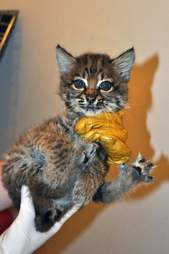 PAWS Wildlife Center
"It took a little while for them to get used to each other, but once they did and figured out their dynamic they were instant friends," Mannas said.
PAWS Wildlife Center
To prepare them for their eventual release, the kittens lived in a large outdoor enclosure with minimal human interaction; they particularly loved the high boxes that hung from their enclosure, where they would perch and curl up together.
"They would cuddle together and groom together," Mannas said. "It was really quite cute."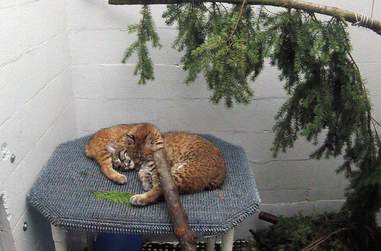 PAWS Wildlife Center
Come spring, both kittens were ready to be released, and because of their strong bond, PAWS knew they couldn't be separated. Late last month, the center brought the two back to the woods, where they were finally released into the wild.
PAWS Wildlife Center
Mannas said that while they'll eventually separate once their hormones kick in, PAWS believes the pair will stay together until they settle into their new home. At the very least, they'll have someone to curl up with and stay warm with at night until they find dens of their own.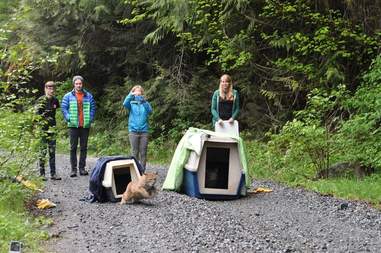 PAWS Wildlife Center
And even though they'll eventually go their separate ways, their strong relationship has given them the best possible start to their new lives.
"They were inseparable," Mannas said.
PAWS Wildlife Center