It's only been a few days since the sanctuary asked for help with naming their newest resident, a tiny baby bobcat. And already, there are more than 300 submissions.
Daisy, Grace, Angel, Lily, you know, the usual suspects.
They're all very pretty and sweet and human. And none of them capture the essence of this cat.
For one thing, as anyone who's ever tried to get close to her knows, she really can't stand humans.
That's understandable, considering a healthy fear of humans keeps many animals alive in the wild. And especially considering it was humans who took this cat's entire family from her in the blink of an eye.
Last month, a baby bobcat was hit by a car on a highway near Duluth, Minnesota. When the dying baby's mother leapt out to try to save the kitten, she too was hit and killed.
A third kitten - the lone survivor from this family - was found on the side of the road and taken to Wildwoods Wildlife Rehabilitation in Duluth.
The idea was to care for this 4-pound kitten until she was big and strong enough to be returned to the wild - always the preferred option for injured and orphaned wildlife.
But after researching with other wildlife centers across the country, Wildwoods determined she wouldn't be able to return to the wild. For one thing, she could only be released in spring - a long wait that could risk the animal getting too tame at a refuge.
For another, there were legal issues involved with releasing a wild animal in a different state, even if this bobcat would have had much better odds of surviving there.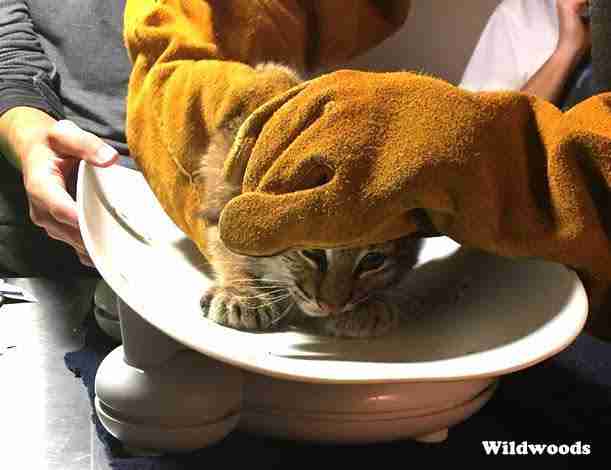 So the rehab facility got in touch with the Wildcat Sanctuary, where the kitten could make the best of a life in captivity.
"We are happy to announce that she is not timid," sanctuary director Tammy Thies tells The Dodo. "She's definitely not happy about humans because that's what her natural instinct is. But she is a brave little girl."
Which is why finding just the right name for her is so important. This bobcat has both heroism and tragedy running through her veins. Not to mention a healthy hate for humans.
She's definitely no Daisy.
"We think a good name would be more of a brave name as opposed to more sad and dainty," Thies says. "She is a beautiful, beautiful girl. But she is definitely brave and has overcome a lot of odds."
But there's one thing this kitten needs much more than a name. She needs a new family.
While bobcats in the wild are typically solitary, at this kitten's age she would normally be with a litter of kittens and her mother.
"But in captivity, she is a wild born cat with a natural instinct to fear humans," Thies says. " So she doesn't have a lot of comfort right now if humans are the only ones she sees."
Thies is hoping a wildlife rehabilitator might also come across a baby bobcat who needs a sibling to grow up with. And the pair can form a new family together.
"If you have bobcats that can be rehabbed and released, please do," she says. "But if you come across an orphan that is not deemed releasable for any reason - whether it's injured or too small - then we would like to pair her up and not have her live on her own.
"We think she would get a lot of comfort from her own kind."