When cruelty is applied to animals, it can be categorized as either intentional or unintentional. Unintentional cruelty is most unfortunate and is usually the result of carelessness or ignorance. Examples of this type include a pet owner who forgets to leave water out for his dog or someone who feeds their animal the incorrect diet since they don't know any better. This type of cruelty is understandable and can be forgiven, provided the perpetrator does not make a habit of it.
Intentional cruelty is a different ball game altogether. It involves the deliberate inflicting of pain and suffering on the animal. Intentional cruelty often involves varying degrees of violence. Those who perpetrate such cruelty are fully aware of their actions and the consequences. Their behavior is inexcusable yet sadly intentional such cruelty is often sanctioned by law and promoted by governments.
This article examines two of the most heinous, violent acts of mass cruelty that take place on earth. Part one deals with the commercial Canadian seal hunt while Part Two will deals with the Namibian seal hunt. At the end of both Part one and Part two we will provide links that will enable you to assist us in fighting these hunts.
Send Email to Canadian Government, CLICK HERE
Please note that neither we, nor any of the major animal rights and welfare organizations are opposed to the traditional Inuit hunt. We are referring solely to the commercial hunts which take place in different locations at different times of the year, using different methods and targeting different species of different age groups to the traditional Inuit hunt. The two are NOT the same.
Of the remaining commercial seal hunts, the Canadian hunt has received the most attention. The reasons for this are as follows:
'cuteness factor' of white-coat harp seal pups
Celebrity involvement from the likes of Brigitte Bardot, Paul McCartney and Pamela Anderson
Contrast of fresh blood on white snow creates graphic imagery
Irresponsibly high quotas set by the Canadian Department of Fisheries and Oceans (DFO)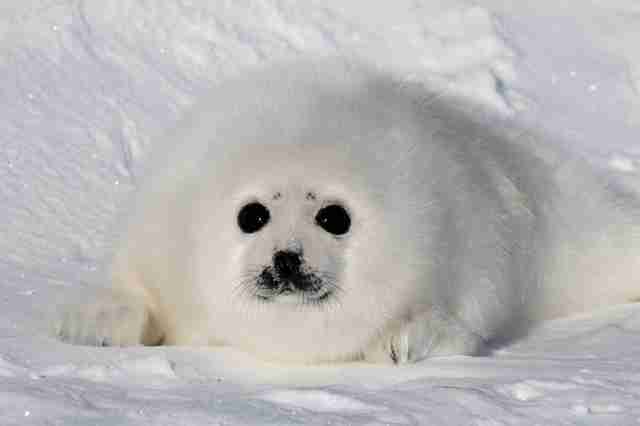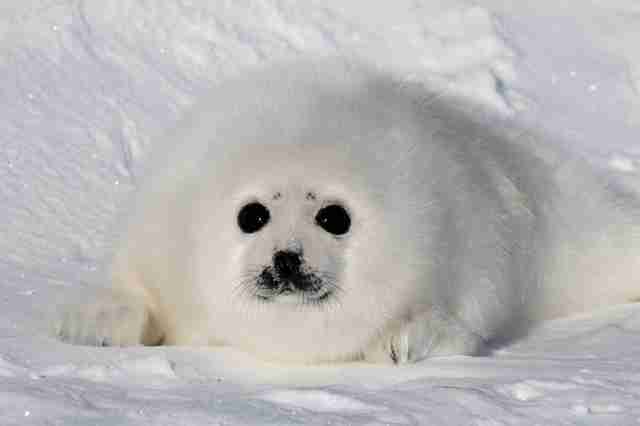 The 2015 quota stands at a ludicrous 468 thousand animals to be slaughtered. The vast majority of these will be harp seal pups while the balance will be hooded and gray seals.
Background
In the Northern Atlantic, small scale hunts were undertaken by migratory fishermen to supplement their catch from the early 1500's with large scale commercial hunts only beginning in New Foundland, Canada from as late as 1723. There have been several changes to the hunt over the years. The most significant of these deal with the method of slaughter and the hunting of "white-coats" (harp seal pups under three weeks of age) and "blue-backs" (juvenile hooded seals)
Methods
According to the Marine Mammal Regulations, the act which governs the "humaneness" of the hunt, seals must be slaughtered using only high-powered rifles, 20 gauge shotguns, clubs or hakapiks. In order to move away from the negative connotations associated with seal clubbing, there has been a gradual shift from using hakapiks to the use of firearms.
Today, 90% of seals killed in the Canadian hunt are shot at from boats. While this may appear to be a humane alternative, the shooting of seals is as bad, if not worse than the use of hakapiks. Accuracy is severely impaired due to the motion of rocking boats and tilting ice floes. It is estimated that for every successful kill-shot, one wounded seal manages to escape beneath the ice. These seals will suffer extreme agony from a gunshot wound. They may be unable to hunt for themselves in which case they will starve to death. They may be hobbled in such a manner that they are unable to flee from predators, infection may set in or they may drown.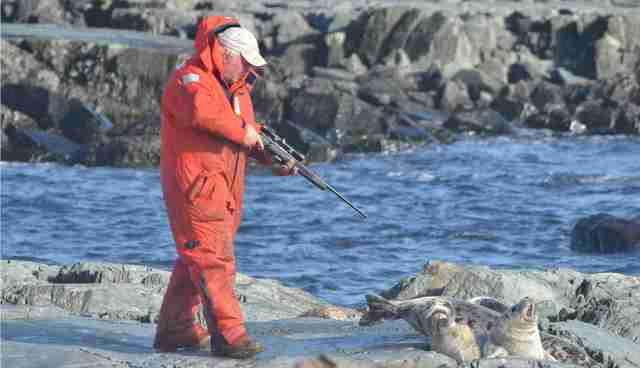 While the majority of seals are hunted with firearms, 10% are still slaughtered by means of bludgeoning them with a hakapik. This rudimentary device of Norwegian design consists of a heavy wooden club fitted with a hammer head (for crushing the seals skulls) and a hook (for dragging the seals corpses across the ice.) The use of a hakapik is preferred in certain circles as it causes less damage to the pelt and is cheaper than using bullets.
Send Email to Canadian Government, CLICK HERE
Age of seals
In 1972, the US government implemented the Marine Mammal Protection Act. This Act outlaws the hunting and import of "white-coats" and "blue-backs" The reason for this is that these animals are still dependent on the teat. The EEC banned the import of "white-coats" in 1983 while Canada banned the commercial hunting of "white-coats" and "blue-backs" in December of 1987.
Despite this ban, illegal hunting continues. In 1996, Canadian authorities seized 22 800 "blueback" pelts that had been slaughtered during the commercial hunt. Contrary to popular belief, the hunting of "white-coats" is still permitted in Canada for personal use and is stipulated as such under section 27 of the Marine Mammals Regulations.
While we acknowledge that the hunting of "white-coats" has been outlawed under the commercial hunt, we refute claims made by both the Canadian government and the Canadian Sealers Association (a pro hunt lobby group set up to promote the hunt through misinformation) that baby seals are not being slaughtered.
Harp seals, which can live for 30-35 years and only reach sexual maturity between 4-6 years, are targeted by the sealers when they are between 3 weeks and 3 months of age. Many of these have not yet taken to the water or eaten their first solid meal. It should be quite evident to any thinking person that these animals are indeed still babies.
Concluding arguments against the commercial Canadian seal hunt
The Canadian seal hunt is a grave insult to every single Canadian. The government has been unable to provide any conclusive peer reviewed proof that the seals are responsible for a decline in fish stocks. Scientists on the other hand, have managed to prove that gray seals do not affect cod recovery in the Baltic Sea.
The consumption of seal meat is also not advisable on the grounds that it contains heavy metals such as mercury and cadmium. These heavy metals make seal meat toxic for human consumption and can lead to Minimata disease or cause birth defects. For more information on this subject as well as a host of other ailments that can arise, refer to our website
The hunt is no longer a money spinner. Less than 5% of fishermen's annual salary is derived from seal hunting. The industry requires constant bailouts from the federal government in order to perpetuate mass cruelty. These bailouts come at a tremendous cost to the taxpayer. The government would be in a far better position if it undertook a buyout of the industry, shut it down and invested in sustainable, economically rewarding community upliftment projects.
We have heard the argument that the seal hunt is steeped in tradition. It needs to be revered and protected as part of Canadian culture. This notion is absolute hogwash. The commercial hunt can only be traced back to 1723. If we take into account the use of modern equipment such as motorized boats, radars, communications devices etc then the commercial hunt in its modern form has only been operating since the late 1800's. This makes it more of a habit than a tradition; and a bad habit at that.
As societies adapt to new ideologies and technologies, so too must their cultural practices. Culture adapts to society. Society does not adapt to culture. Consider that Mayan child sacrifice, female genital mutilation, Chinese foot binding, apartheid and racism, whaling and homophobia were at one time considered acceptable cultural norms. Today these practices are considered taboo. Canada can no longer hold the world to ransom in support of this iniquitous industry.
The commercial seal hunt has become universally despised. Products derived from this hunt have been banned in the USA, Mexico, Russia, Belarus, Kazakhstan, the 27 nations of the EU and even Taiwan, formerly the world's 3rd largest importer of seal oil, has now banned imports. This is due to the inherent cruelty that is involved. Several desperate attempts by the Canadian government to make deals with China have backfired. Gail Shea, minister of the DFO has been labelled a racist, guilty of cultural imperialism; this after she made unwarranted comments that "the Chinese will eat anything."
We, along with several like-minded organizations, will continue to lobby governments around the world to shut their doors to the seal markets. The industry is outdated. It is undoubtedly cruel, shamefully barbaric and one that needs to be relegated to the history books.
Here is a list of ways in which you can help us fight the commercial seal hunts.
If you have any compassion, please, for the love of animals, share this article.
Send Email to Canadian Government, CLICK HERE
Don't forget to LIKE US on Facebook so that you can be notified of Part Two when it is released.
You can also follow us on Twitter
For a full list of our current petitions click here
You can download free protest posters, fliers and placards from our website by clicking here
For other ideas on how to assist click here
Thank you for your support.
Pat Dickens and The Seals Of Nam