Bloodied Activists Make It Clear at Nathan's Famous Hot Dog Contest
<p> <a href="http://collectivelyfree.org" target="_blank">Collectively Free</a> </p>
On July 4, 2015 at 12:00pm The air was still as activists from Collectively Free and Direct Action Everywhere disrupted an American tradition.
As the announcer gathered the two male winners for the award ceremony of the most well-known eating contest in the world – Nathan's Famous Hot Dog Eating Contest – two animal rights activists covered in fake blood ascended the stage.
They held signs that read, "Does Taste Justify the Killing?" and "Animals Are Not Ours." Additional activists blended within the crowd also held signs and led a chant, "Are you willing to stop the killing? It's not food - it's violence."
Spectators immediately began to boo at the activists as the NYPD and hecklers, including event contestants Michelle Lesco and Tim "Eater X" Janus became aggressive, shoving the non-violent activists and taking some of their signs. The group was forced out of the event and into a back alley by the NYPD. None of the activists were arrested, but one activist was injured.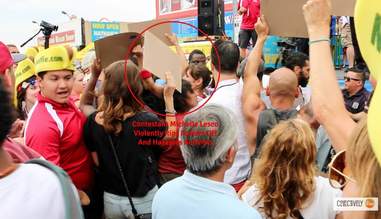 Contestant Michelle Lesco being aggressive with the non-violent activists
Contestant Tim "Eater X" Janus taking a sign from a blood covered activist The activists involved in this disruption believe in non-violence and increasing awareness of speciesism - a form of discrimination just like racism, sexism, ableism, etc. is a presumption that the human species dominates over another species. Unfortunately it is never acknowledged because we have conditioned ourselves to not notice, as a result it is the hardest discrimination to dissolve. As activists we fight for total animal liberation and want the stories of the animals to be told while also being inclusive of everyone that desires to follow their dreams of a world free of oppression and suffering.
Watch the video of the disruption here:
For more information or to get involved, please visit the links below:
Collectively Free is an activist community that works towards the abolishment of the exploitation and consumption of non-human animals through highly creative and non-violent actions, by changing the culture of speciesism, and uniting communities.
Direct Action Everywhere is a platform to inspire people to confront and speak up against speciesist discrimination, degradation, domination, oppression and atrocity, until animal liberation is achieved and every animal is free.
Until Every Animal Is Free