Blind Puppy No One Wanted Fights To Overcome His Anxiety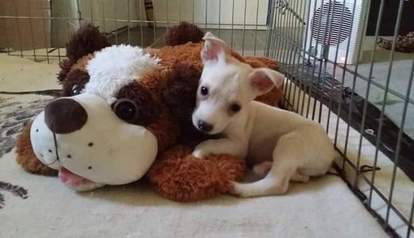 When a Facebook post advertised a free puppy named Lucy in California, dozens of requests poured in to give her a loving home. Another puppy named Stuart was also mentioned in the same post - but no one was asking about him.
In fact, Stuart was in danger of being drowned by his former owner - just because he is a little different.
Denise Mueller
Denise Mueller
Stuart is a tiny puppy with some big obstacles to overcome. He's blind and also suffers from a possible spinal defect, which means his walk looks like an adorable bunny hop. Sometimes his back legs will suddenly give out. On top of everything else, he's missing his tail - but Stuart certainly isn't missing his spirit.
Denise Mueller
Denise Mueller
Denise Mueller immediately felt a connection to Stuart after seeing the Facebook post. She was surprised that no one seemed to care about his plight, so she reached out to the post's author. "I asked her what would happen to him if no one took him in," Mueller told The Dodo. "She replied that she would be taking him to the pound. I wanted to help him so badly."
Denise Mueller
Denise Mueller
Mueller wasn't in a position to adopt Stuart herself, so she searched for a rescue that would try to find him a permanent home while she fostered him. When Last Call K-9 Rescue, based in California, agreed to support Stuart, Mueller immediately went to bring him home.
When Mueller arrived to pick him up, Stuart's current owner told her over and over again that he'd wanted to drown Stuart because he "knew something was wrong with him." Thankfully, the man's children stopped him and Stuart went home with Mueller, who already loved him more than he'd ever been loved before.
Denise Mueller
Denise Mueller
"Stuart was very frightened when I picked him up," Mueller said. "The man in the home explained to me that all Stuart does is run in circles and bite."
Stuart was extremely anxious when Mueller first rescued him, but within days of arriving at his new foster home, he'd become a completely different dog.
Denise Mueller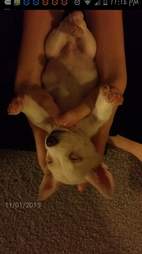 Denise Mueller
"He is so well behaved. For all he has had to deal with, he never complains," Mueller said. "He is so playful and happy."
Stuart's anxiety is still present sometimes, especially when he's put into a new environment. In general though, he has gotten very brave, and isn't even a little bit scared of things that are bigger than him.
Stuart loves to play with his gigantic stuffed dog ...
Denise Mueller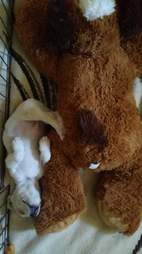 Denise Mueller
... as well as gigantic real dogs.
Denise Mueller
Denise Mueller
Stuart overcomes all of his struggles with happiness and kisses. but now his biggest hurdle is finding a home where he will be accepted for who he is. Stuart is the tiniest underdog and he deserves to prove everyone wrong by showing them how strong he really is.
If you would be interested in adopting Stuart, you can contact Last Call K-9 Rescue to get the process started.