Blind Puppy Just KNEW He Was Leaving The Shelter
"He saw himself as a survivor. Like he's an old soul. I truly believe he knew he was getting out."
It didn't matter that the whole world seemed against him. Or that his previous owner had kicked him so hard, he would lose sight in both eyes.
It didn't matter that at just 6 weeks old, Mack was looking at a death sentence at an animal shelter in Longview, Texas.
Mack knew something no one else knew: He was getting out of there.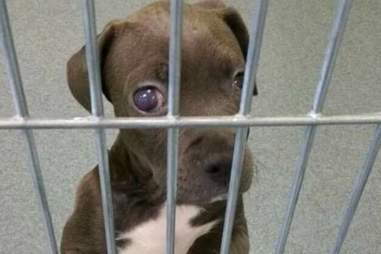 Rindy Fox
At least that's how it seemed to Rindy Fox when she first saw pictures of Mack shared among her network of animal rescuers. Working independently and with other rescue groups to find homes for shelter dogs, Fox's inbox is always full of pleas for help.
"You can get a hundred messages but one dog just leaps out," she tells The Dodo. "He did that."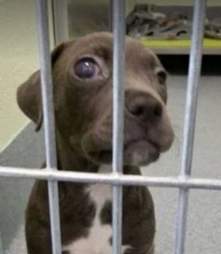 Rindy Fox
"Even at the shelter, he had this attitude, like 'I'm going to get out of here,'" she adds. "He saw himself as a survivor. Like he's an old soul. I truly believe he knew he was getting out."
Still, it took two weeks for the shelter to release Mack - thanks to an insistence on only letting a rescue group, rather than an individual, take him out of there.
It was an agonizing wait.
"When you have an injury, two weeks is a long time to sit in a shelter, especially for a little puppy," Fox says.
But last July, Fox, along with fellow rescuer Kickie D'Alfonso, found a small organization willing to sign out the puppy.
From there, it was directly into Fox's arms. And Mack, despite needing urgent medical care, seemed to know all along it would go that way.
Rindy Fox
It turned out, Mack would lose an eye. And the vision in his second eye is likely gone too, Fox says.
But that's about the only loss Mack would allow in his life.
After fostering with Fox for about a month, the puppy met his forever family-to-be. They just didn't realize it at the time. But Mack did.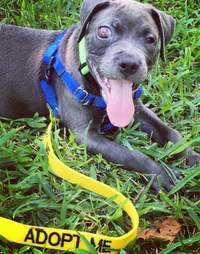 Rindy Fox
When Roger Chavez came to visit the puppy in August, he seemed to go out of his way to not interact with Mack.
"So I took him aside and asked, 'What's wrong? Is everything OK?'" Fox recalls. "And he said, 'I don't want to touch him or anything if I know for sure we are going to get him because I am totally in love with him.'"
Well, Mack knows a thing or two about for sure. And Roger Chavez and his wife, Randi, were a for sure.
So Mack the blind pit bull joined the Chavez family in Austin, Texas, along the way gaining a sibling in another rescued dog.
And he wasted no time in becoming Mack the over achiever. In puppy school, he graduated top three in his class.
He's also a world-class swimmer.
For Mack, the real miracle is that he doesn't care about how his life began. No demons. No baggage. No trouble.
"A lot of times, when you have a puppy who spends his developmental time, from six to eight weeks, in a shelter, that is a super critical time for a dog," Fox says. "That's why we tried so hard to get him out. But he doesn't seem to have been phased by it.
No, this little blind dog only sees one thing: the road ahead.