Pit Bull Blinded By Abuse Finally Finds Family Who Loves Him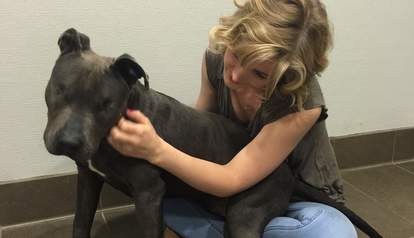 <p> Animal Humane New Mexico </p>
Months ago, after suffering an unimaginable ordeal, Raj was brought to Animal Humane New Mexico, where he patiently waited for a home.
Now his wait is finally over.
Raj was kept chained outside for most of his life along with his two dog siblings, who were both poisoned. Raj was the only survivor. He also lost one of his eyes while under the care of his previous owners and had to have the second one removed upon his arrival at Animal Humane New Mexico.
Animal Humane New Mexico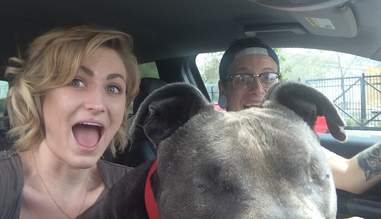 Animal Humane New Mexico
Raj definitely has challenges now, but he and his rescuers hoped that, despite his differences, a family would still step up and adopt him. Raj's story was covered by The Dodo and now finally, after a long wait, Raj's forever family found him.
Alexandra Goslow and her boyfriend came across Raj's story on Animal Humane's website, and it struck a chord with them - they knew he was the dog they had been waiting for. "It was so clear he had so much spirit and so much love to give despite his disability," Goslow told The Dodo. "We went to Animal Humane the next day and met him. It took a little while for him to warm up to us, but we brought him home that day."
Animal Humane New Mexico
Animal Humane New Mexico
The day Raj left Animal Humane was both wonderful and heartbreaking for shelter staff. "It's definitely an emotional moment for staff when pets we've cared for for so long find their forever homes," Leah Remkes of Animal Humane New Mexico told The Dodo. "It was especially a bittersweet moment with Raj because he really did touch every single person who knew him, not only at Animal Humane, but within the community who had come to love and support him. We are thrilled he found his perfect home but it was definitely a teary-eyed experience."
Animal Humane New Mexico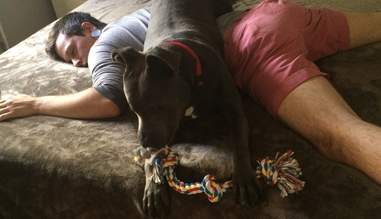 Animal Humane New Mexico
Raj is now settled into his new home and is absolutely loving life. He has free reign of the house and his parents even installed a doggie door so he can go outside whenever he pleases. Despite being blind, he has learned his way around remarkably well but never likes to be very far from his mom and dad. "If he can manage to get into a lap, that is where he wants to be. I have never seen a large dog so convinced that he is a lap dog," Goslow said.
Raj came from a terrible past, but with patience and love has been completely healed. Now, Goslow and her boyfriend can't imagine life without Raj, and the shelter staff and community who know him are so happy he touched their lives the way he did.
Animal Humane New Mexico
Animal Humane New Mexico
"I can't even begin to describe how much I love this dog. He is so loving and trusting," Goslow said. "He is incredibly well-behaved, especially considering the treatment he received in his life. All he wants is someone to love that loves him in return - that and hotdogs."
Congratulations on your new life, Raj. You deserve this!