Blind Shelter Kitten Has His Very Own Seeing-Eye Cat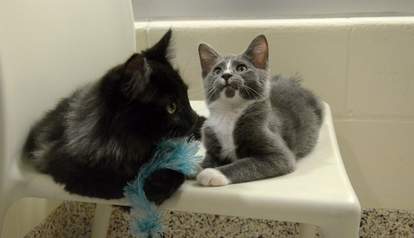 <p> <a href="https://www.facebook.com/spcaalbrechtcenter/timeline"><u>SPCA Albrecht</u></a><span></span> </p>
Blinkin' and Hefty have become in-house celebrities at the SPCA Albrecht Center in Aiken, South Carolina - mostly because of their extra-special relationship.
The two kittens aren't just best friends. Hefty actually helps Blinkin', who is blind, get around on his own.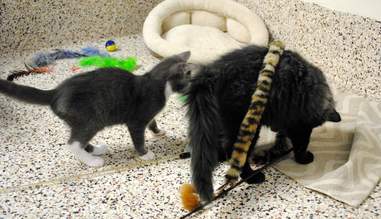 SPCA Albrecht
Hefty, a fuzzy black kitten, was born at the SPCA. About a month later, Blinkin' was brought in as a stray. When shelter staff noticed that Blinkin' was blind back in June, they decided to see if matching him up with Hefty would help Blinkin' be more independent.
"We paired them up together and they've been together ever since," the SPCA's Sarah Neikam told The Dodo. "It's really sweet to see them together."
SPCA Albrecht
Hefty helps Blinkin' out by guiding him wherever he needs to go and they spend all their time together, so obviously the two need to find a home together.
SPCA Albrecht
The dynamic duo were featured as the "pets of the week" on a local news channel, but they still haven't found a home.
"These two have just stuck around with us," Neikam said. "We're still looking for the right home for them."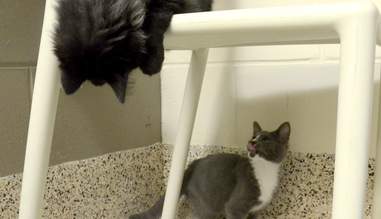 SPCA Albrecht
Hopefully these two will find a home with an understanding family, who will make sure they live long, happy lives as best friends and partners in crime.
If you're ready to adopt a shelter cat like these two, check out Adopt-a-Pet.com.