Dog With Wheelchair Shows His Blind Friend The World Isn't So Scary
Sometimes he even gives him a ride on his wheelchair.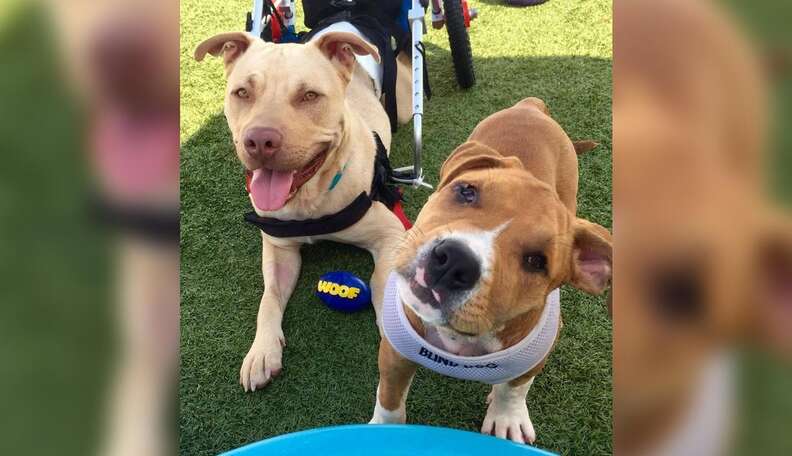 Eddie and Opie are both a little different, and therefore understand each other perfectly.
Eddie was surrendered to a local shelter after his owners could no longer care for him. He had damaged vertebrae, compressed discs and nerve damage, and as a result, had no mobility in his back legs.
Despite his condition, Eddie was the happiest dog from the very beginning, and never let his hardships stand in the way of his beautiful personality. On the day he was scheduled to be put down, Second Chance Rescue NYC was able to pull Eddie from the shelter.
"Eddie is always smiling and he is a wonderful example of finding and maintaining joy in the face of what most would see as adversity," Kelcy Kimmerer of Second Chance Rescue NYC told The Dodo. "He LOVES life and everyone in it."
Eddie was taken to Camp SCR, a private boarding home through Second Chance Rescue NYC for dogs who need a little extra attention and care. There, Eddie was given one of the greatest gifts of all: a wheelchair.
"Many people marveled that the moment he was put in his wheelchair for the first time, he took off like it was second nature," Kimmerer said. "He is fearless and very smart."
Now, Eddie has all the confidence in the world and seems to have no idea he's any different. He loves helping to take care of the puppies that come through Camp SCR - especially Opie.
Second Chance Rescue NYC rescued Opie after he was surrendered to a vet by his owner. Opie has a congenital disease that is causing his eyes to revert backwards towards the inside of his skull, pulling on his arteries. He is completely blind and will also need to have his eyes removed due to his disease.
Opie is very shy, and had trouble warming up to his new home at first. Then, he met Eddie.
Eddie has helped Opie see that the world isn't actually that scary after all. With Eddie by his side, Opie is so much more confident, and he always makes sure that he knows exactly where Eddie is. Sometimes, Eddie is even nice enough to let Opie catch a ride with him in his wheelchair.
"He is a sweet and shy puppy, but his friend and co-partner in crime and foster brother Eddie has really helped him come out of his shell," Kimmerer said.
Despite his challenges, Eddie knows that the world is a beautiful place, and he's slowly teaching Opie to believe it, too.