Blind Dog Needs A New Home After His Owner's Sudden Death
<p> Brittany Robinson </p>
Ray was only supposed to be with Brittany Robinson for a few weeks - but his short stay turned into a much longer one after tragedy struck.
Robinson is a professional dog trainer who runs K9 Guidance to Inclusion, a training and boarding facility, out of her home in Tuscon, Arizona. The laid-back, blind cattle dog, Ray, originally showed up as a client in July.
Brittany Robinson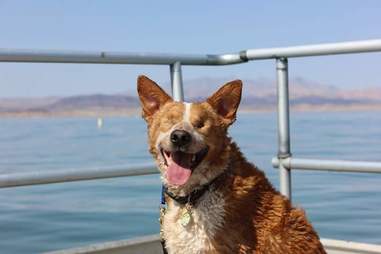 Brittany Robinson
"Within only a few weeks we got a phone call from his owner," Robinson told The Dodo. She had been diagnosed with an aggressive brain tumor.
Robinson assured Ray's owner she would care for him for as long as was needed while she underwent treatment. "'Don't worry about it,' we said, 'he stays here with us.'"
Brittany Robinson

Brittany Robinson
Sadly, Ray's owner passed away in November - Ray could never go home to her. Now he's living comfortably with Robinson as she keeps her promise to care for him until he can find a new home.
Ray's been blind since he was 2 years old - his eyes had to be removed due to glaucoma - but that doesn't keep him from being a loyal, loving dog.
Brittany Robinson

Brittany Robinson
"You would never know he was blind, he's very sensitive and has an extraordinary sense of smell," Robinson said. "He's actually probably the easiest dog we have at our house ... super sweet, very people-oriented."
Now Robinson and her fiance, Christopher Brauer, are trying to find Ray a new family.
Brittany Robinson

Brittany Robinson
Ray would make a great pet for a family with no other dogs, since being around the commotion of other pets can be hard for him, but other than that he's "just a laid back boy who wants to hang at your feet," Robinson said.
Ray was already a rescue when he was adopted by his former owner, and now that he's lost her, he needs a new home that will give him the same kind of love and care that she did.
Brittany Robinson

Brittany Robinson