Blind Dog Was Scared Of Everything — Until She Met Her New Sister
They're helping each other navigate the world
Dunder was born to a breeder who wasn't able to sell her because she was born blind. Wanting to find her a good home where she would be taken care of, the breeder reached out to a woman she knew had veterinary experience to see if she would be willing to adopt Dunder, and luckily, she and her fiancé quickly agreed to welcome the special dog into their family.
"We had been looking into adopting a special needs dog because I have veterinary experience and we primarily work from home, giving us the opportunity to give her our full attention," Alexa Fiala, Dunder's mom, told The Dodo.
When Dunder first arrived in her new home, she was incredibly shy and timid. The little blind dog was still unsure of how to navigate the world, but her parents did absolutely everything they could to make her comfortable, and to show her that no matter what, she could overcome anything.
"The true catalyst was recognizing her toys needed to be audible," Fiala said. "We got her a ton of cat toys — the ones with bells and crinkly noises and she really bloomed. We were over the moon to see her playing and acting like a puppy."
While Dunder was finally starting to come into her own, she still struggled figuring things out sometimes, and before long her parents realized what was missing — and so they decided to adopt a second special needs dog.
When the breeder who had given them Dunder reached out to the couple again to say that she had another special needs dog who needed a home, they didn't hesitate at all. Darby had a disorder called megaesophagus, meaning her esophagus was too big, causing major eating problems. The couple wasn't fazed, though, and they welcomed little Darby into their family, without realizing just how much she was about to change Dunder's life.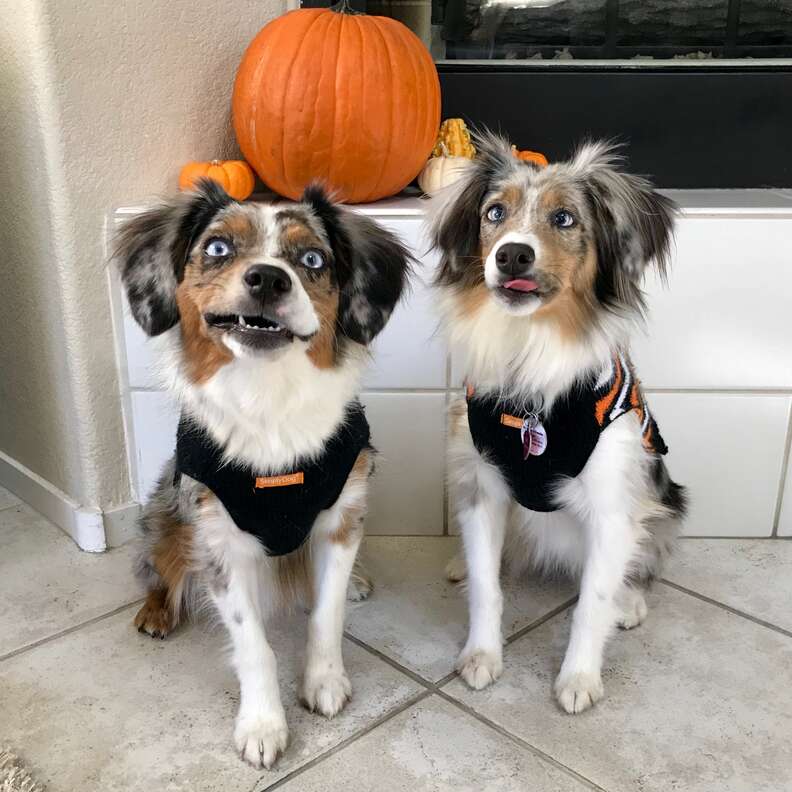 "Adopting Darby was the best thing we ever could have done for her," Fiala said. "They are Frick and Frack. Dunder is always following Darby around and taking cues from her."
Thanks to Darby, Dunder now has all the confidence in the world. When they go on walks together, Darby takes the lead and helps show Dunder where to go. When they're meeting new people, Dunder follows Darby's lead to figure out how she should be handling the situation. Now, it's almost as if Dunder has completely forgotten that she's blind, or as if she never really knew at all. Her struggles are a thing of the past now that she has Darby by her side.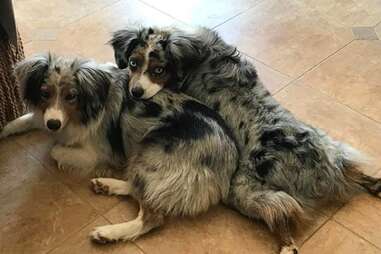 "While Dunder runs into the occasional wall, you would never know she's blind if we didn't tell you," Fiala said. "People will literally stand and argue with us that she can't possibly be blind — this is about the time she collides with a tree she's forgotten about. I don't think Dunder has any idea she's different from another dog. There are times I see her sneaking around Darby in a way I can tell she's trying to be quiet. Like picking up a toy right in front of Darby but being completely silent as if that will cloak her theft. That tells me she doesn't realize Darby can see."
Dunder absolutely adores Darby, and Darby loves her just as much in return. They are attached at the hip, and go a little nuts if they ever have to be apart. Darby and Dunder give each other the confidence they both need to overcome their disabilities, and as long as they have each other, there isn't anything they can't do.
"I really encourage people to take the leap, be brave like Dun, and look into adopting a dog with a disability," Fiala said. "I've never had a more rewarding experience in my life."